Your guide to blended learning
Everything you need to know to create your blended learning program.
Before we start, which of the following sentences do you believe are true?
Blended learning is achieved through a single platform or learning model
Blended learning is simply adding digital content to classroom learning
Blended learning can happen in a single day or instance
You plan your tools/technologies before considering your learners
You need extraordinary instructional design skills to create a blended solution
Answer: NONE of the above
Whether you answered correctly or not, this article will answer any question you've had about blended learning. From what is a flipped classroom and the benefits of blended learning, to best practices and blended learning tools.
Blended learning is a powerful yet flexible learning methodology that allows you to blend multiple learning models with learning technologies in order to meet diverse learning needs. This is a hybrid learning and teaching methodology that combines the traditional classroom model with digital technologies to create a modern learning experience.
For example, a typical blended learning solution might look like this: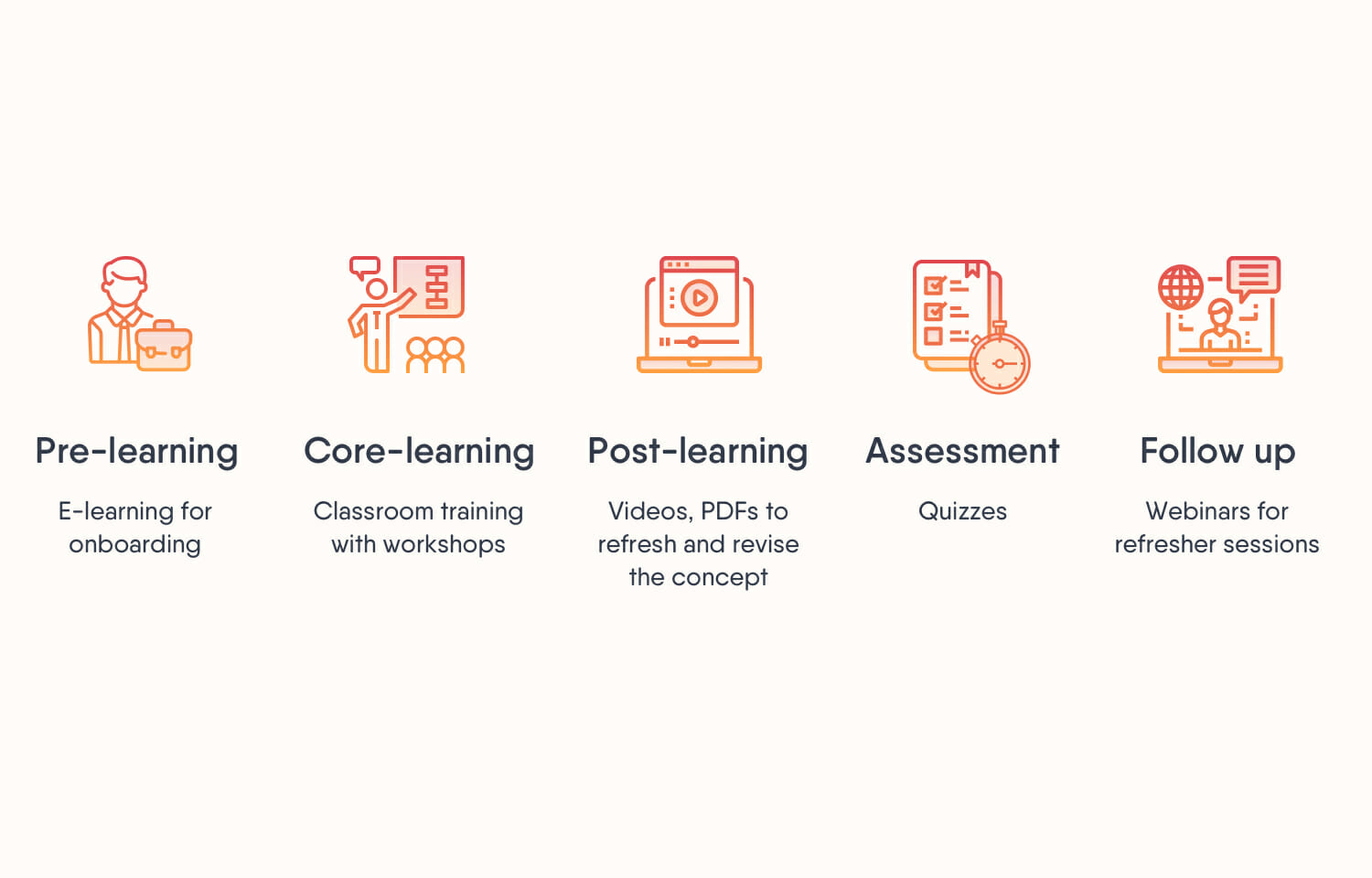 The journey of a learner can be linear or exploratory and can span days to months depending on your goal.
Ingredients:
There are five key ingredients of a blended learning approach: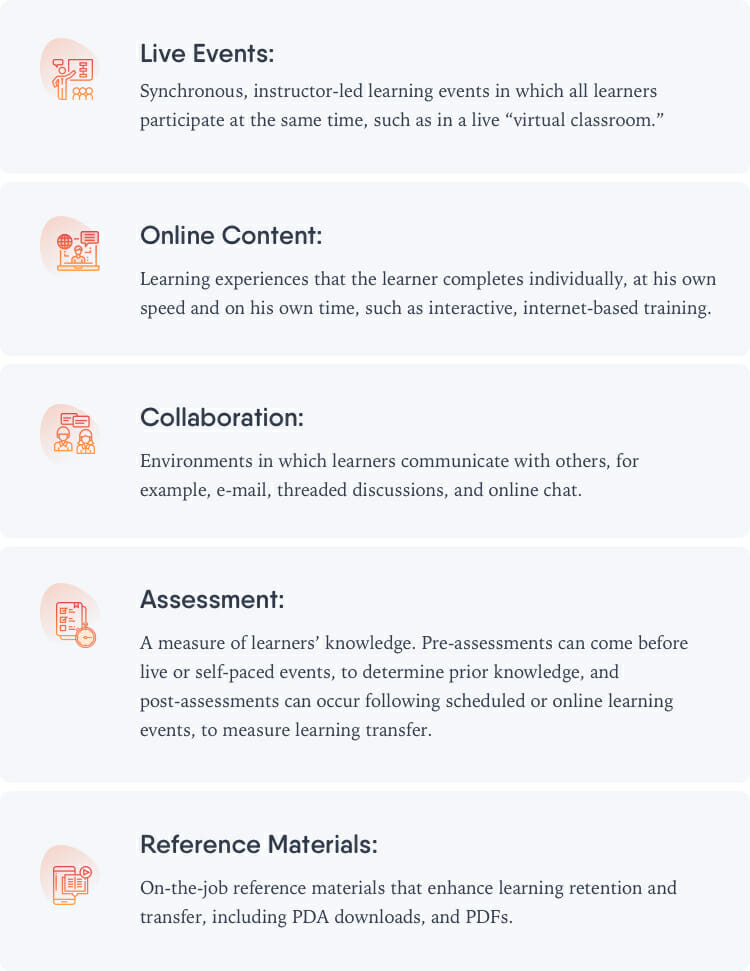 The station rotation model:
Like all blended learning models, the Station Rotation Model includes both face-to-face classroom training and online learning. Trainees rotate (either on a fixed schedule or at the training team's request) between multiple types of training sessions, at least one of which is online learning. For example, a learner may complete a module online and then take part in an offline group activity with other trainees.
The flex model:
The Flex Model allows trainees to take part in learning activities in the classroom according to their needs. This model focuses mainly on online learning, giving trainees greater control over their learning. Trainers assist and support the employees on a flexible, on-demand basis as the employees work through the online learning content.
A la carte:
The A La Carte Model lets learners take an online training course in addition to compulsory offline courses, providing them with greater flexibility than conventional, pre-scheduled training sessions.
The enriched virtual model:
The Enriched Virtual Model places the emphasis on online training from day one and uses face-to-face training as a supplement in certain cases. Trainees learn on the job using online content and have the opportunity to meet with trainers in case they encounter problems or want to discuss the learning content in greater detail.
Flipped Classroom:
The Flipped Classroom Model is very similar to the enriched virtual model, in which the classwork and homework activities are flipped by employing technology. The usual classroom time is used for trainer-learner interactions and discussions while the teaching happens through digital resources/ recorded material. The blended learning program is designed in such a way that learners access the learning content outside the class. This offline learning helps students/learners to study at their own, reflect better and come prepared for the classroom activity.

As Electrolux continues to grow, its training needs are expanding as well. Neither face-to-face nor digital training alone could technically meet their goals. Instead of continuing to provide face-to-face training sessions for thousands of its resellers' sales and support personnel, Electrolux turned to Easygenerator to help launch a highly successful blended learning program.
Going digital isn't an easy task for an organization that is traditionally used to face-to-face training. The main obstacle the training team faced with respect to switching to a blended learning approach was to convince and change the mindsets of the 80+ trainers and get management buy-in.
Faced with these mounting business challenges and cultural obstacles, Electrolux turned to Easygenerator to introduce the cost-effective, highly agile and scalable blended learning strategy that it uses today.
Goals
In-house content with affordable tools
Faster content development
Freeing up resources
Accessible by a wide-range of learners
With Easygenerator, our trainers could use the tool straight away - no complications, no PowerPoint with voiceover (this is not engaging). The tool is easy and professional to use.
Our trainers could create and distribute content in-house at a speed and pace they wanted as per the local market needs.
Deployment
Electrolux distributed its learning content to employees and customers through Easygenerator for cloud-based access and through their LMS for SCORM purposes.
They leveraged e-learning as a preparatory and follow-up tool for face-to-face learning. This helped them facilitate digital training throughout the year, as opposed to occasional classroom training.
Electrolux uses e-learning in three ways:
Preparation: This lays a foundation of fundamentals before the main training sessions.
Repetition: E-learning is used for repetition of what was taught in class.
Practice: As much as the repetition of the message is central to remembering information, practicing the know-how is equally important. Classroom material is made accessible via mobile devices.
Here's a use case of how Electrolux went about deploying the solution:
To help the European sales team participate in an international fair, the Sales and Service Training team chose a blended learning solution instead of running a classroom training session alone.
They built a program in their LMS with a mix of videos and Easygenerator courses to prepare the sales team before the fair (in terms of product training, the storyline of the booth concept, etc). With this approach, they could include more information to learn without blocking a specific day/time with sales colleagues and ensuring that all colleagues went to the fair with the same level of knowledge. This was combined with face-to-face training at the fair that refreshed their knowledge.
This method was really appreciated and is already something which everyone expects before each and every fair.
Results
Despite strong competition from other brands, Electrolux is now confident that its blended learning model is helping it stand out with retailers in the European region.
The results of switching to blended learning with Easygenerator speak for themselves: greater scalability, better ROI and a more personalized learner experience. They were able to scale training immensely because the choice of tools in the blended learning solution work so easily and quickly. This scalability is crucial to the company's competitive success among retailers.
Scope: 80 authors; 2,000 modules; the average NPS of courses created so far is 9.16 (out of 10) as voted by 6,000 users; there have been more than 10,000 active sessions using the tool so far.
Global access: Trainers across the European region use the authoring tool to create training resources. This was made available to all regions.
BYOD: Given the responsive content, the training team could effectively support learning and performance needs across multiple devices.
Effectiveness: Learners have reported reduced dependency on scheduled training programs as they were able to access information on demand.
Types of courses: Trainers create courses/content on product-specific topics like product specifications, product range, and versions; this helps the sales teams to stay updated. In addition to the core content, they are able to localize the courses to more than 20 languages with a view to meet the regional needs.
We use eLearning to build a foundation before delegates attend a face-to-face training day and then reinforce key messages in the weeks that follow. It's a vital part of our blended approach and an economical solution to extend and maximize your scope of training coverage and the perfect solution to controlling your message at a distance.
So we've seen one successful application of blended learning in action, but what are the dos and don'ts you need to keep in mind when you're designing your own blended learning program? Here are our blended learning best practices.
Course Rhythm
In recent times, we have seen many instructors simply stick some online learning onto their traditional face to face courses whilst hoping for the best. If you do this, you might not see the best results because you need to approach it with a different mindset. Rather than being an add-on to your course, the two types of learning should be integrated with one another to form a well-oiled machine.
Have a clear goal in mind that you want to achieve and help the learner work through relevant activities and guidance.
Content v Mode
When building a blended learning course, you need to understand the difference between content and mode. With content, this explains the instructional materials including lectures, assignments, and readings. On the other hand, mode describes the method in which the information is provided such as discussion boards, textbooks, videos. When you differentiate these two factors, you can soon work out which is the best form of delivery for the end-user.
Use technology within the classroom as it is proven to increase engagement with learning!
Plan Learning Time
Plan when each piece of learning actually occurs within your blended classroom. When feedback is required or you would prefer the learners to work together to build on their knowledge, this will need in-class sessions. Do not forget the importance of having a structure in place that supports the transfer of learning into practice.
Foster learner autonomy
Provide your learners with options so they can learn through the best methods for them. They are more likely to be engaged if they get to choose how they learn. Embrace technology to give learners choices beyond the constraints of the classroom. For instance, you can engage learners with content prior to the course. Make sure the content is relevant for them and they know how they can benefit from participating.
Power of Data
Do not underestimate the impact of data, it can provide invaluable insight that helps you re-evaluate your learning strategy to make it fit for the future.
In an Easygenerator webinar, Electrolux and LECOM revealed what makes their blended learning approach so successful, and what challenges they overcame whilst implementing it, as well as which tools have enabled their blended learning.
Planning or implementing a new learning technology can be confusing due to the sheer number of technologies available. Here are our 3 steps to make blended learning possible: create the desired results because of its flexible structure to pick and choose the tools, models, time span, and learner needs, and basically piece them together without losing sight of the overall goal.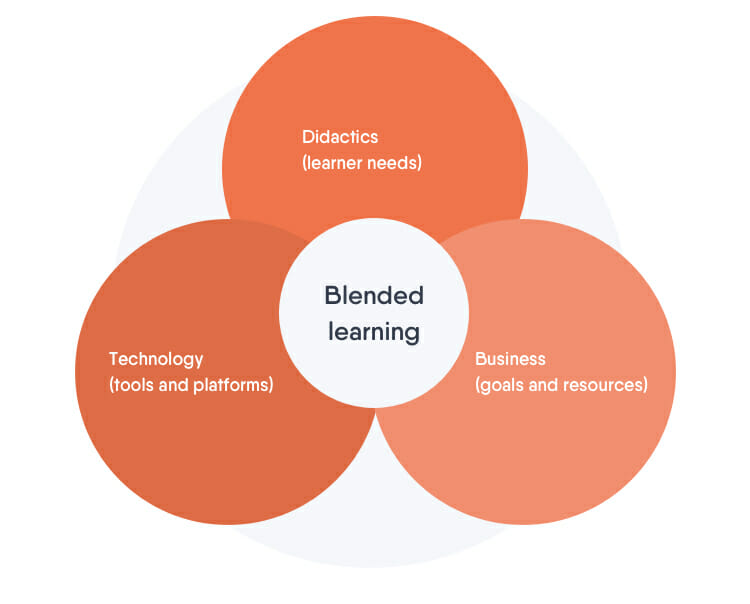 Step 1: Business Challenges:
What does the business demand?
First and foremost, we recommend you to think about the business goals driving this requirement:
What is the challenge you are trying to solve with blended learning?
How do you envision a blended learning program to create the desired behaviors/results?
What is the expected outcome of this blended learning solution?
Example:
Your organization's sales team performance is not up to the mark and needs a training intervention to help them up their game in the next 3 months. The allotted time and training budget are quite modest and are clearly not sufficient to either arrange an elaborate classroom training or rich e-learning courses.
Requirement:
Based on the above problem description, the expected outcome is to equip the sales team with the necessary information and handy knowledge that they can use at various moments of needs in their flow of work. This process must be implemented within the scope of the following limitations:
Short-time frame
Low budget
Inexpensive ways to enable continuous learning
No scope for fully classroom or fully digital learning.
Solution:
For a multi-dimensional requirement as above, blended learning can create the desired results because of its flexible structure to pick and choose the tools, models, time span, and learner needs, and basically piece them together without losing sight of the overall goal.
Step 2: Didactics
What do you know about your learners?
You need to understand your learners before deciding the technology:
Who are your learners? – Profile, prior knowledge, technology awareness
What are their learning goals? – Desired behaviors, skills, knowledge
How do they usually access information? – Mobile, desktop
When can they learn? – How much time do they have?
Where do they learn? – Physical locations
Pain points with respect to training
All these pieces put together will help you understand their persona, which will then help you integrate all the different tools in a seamless way that will deliver the best learning experience for your learners—and inform you with valuable insights back to the business.
Step 3: Technologies
What technologies/tools are required to create a blended learning environment?
There is no single platform to arrive at that perfect blend. Typically, you will use a variety of tools and platforms to effectively deliver your blended learning program, for instance:
Classroom learning – face-to-face training, workshops, coaching
Digital learning – authoring tools to create e-learning courses, webinar software
Social collaborative learning – social networking platforms, collaborative tools
Mobile learning – apps
Performance support – job aids and digital resources
User-generated learning – videos (YouTube), forums
Self-learning – videos, pdfs, Google
Personalized learning – Simulation software
Assessments & tracking – Quiz software, LMS tools, xAPI
Example:
Drawing on the findings from the above-mentioned example, here's a sample blended learning program: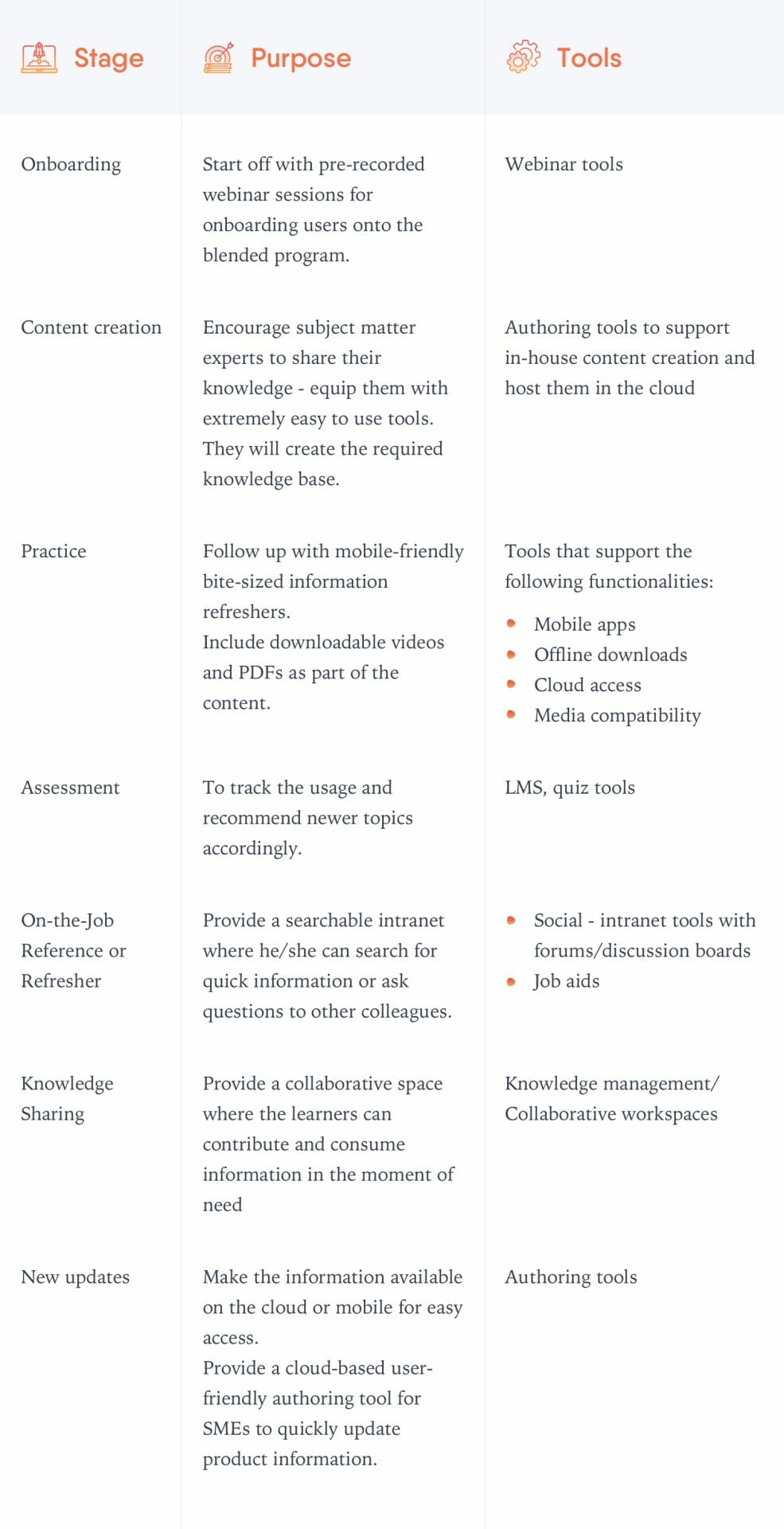 Here are few applications to jump-start designing your blended learning program:
Blend with digital resources for pre-/post-classroom support:
A classic form of blended learning, where you would digitize a part of training and provide it either as a preparatory or a follow-up intervention to classroom sessions.
Blend with digital resources for a flipped classroom
In this case, you are blending and as well as flipping the activity of classroom and digital learning models.
General scenario:
Classroom: You watch/listen and learn in the classroom
Home/At work: You reflect and practice online or on paper
Flipped scenario:
Home/At work: You learn the subject online
Classroom: You reflect/practice in class, with your peers and trainer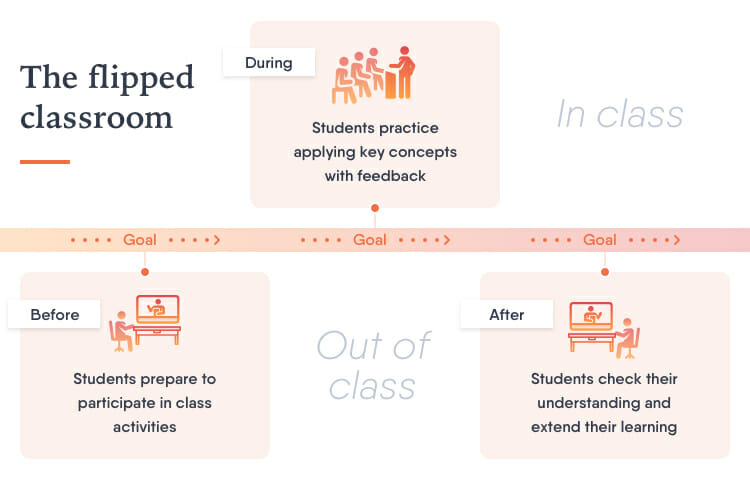 Blend with digital resources for performance support
You teach the core subject either in the classroom or e-learning programs, and then when it is about time for learners to perform on the job – you would support them with digital information nuggets like job aids and resources.
A blended learning approach can have a massive impact on your learners' knowledge engagement and retention. The linchpin of a successful blended learning program, though, is understanding both your learners' and your organization's needs.
With this understanding, your blended learning program and content can be personalized while reaching more learners and reducing time constraints and costs. Learner experience is heightened, collaboration is improved, trainer time is optimized, and most importantly, blended learning can meaningfully complement other learning modalities with the likes of classroom training, performance support, and e-learning.