Rethinking the LMS
Does the learning management system still have a role to play?
When you introduced e-learning in your organization, a learning management system – or LMS – was likely the first tool you were told, or you thought you needed. And why wouldn't you think that? LMSs have been a staple in the learning and development (L&D) sector for the last three decades. But do you still need one?
In modern workplaces in which your employees are more likely to Google the answer in their moment of learning need, does the LMS still have a role to play?
In this article, we'll explore where the LMS sits in the modern "learning ecosystem" of tools, software, and platforms. If you're reconsidering your learning tools, we'll help you decide if you still need an LMS.
If you're brand new to e-learning and aren't too sure about what an LMS does and doesn't do, we recommend you jump over to this blog post before continuing.
LMS are online platforms that store and organize e-learning content in one place for your organization's learners to access. LMSs also generate certificates and keep track of learners' past learning activities, so that administrators and learners have a clear overview of a learner's training level.
But beyond this, depending on the software, of course, they tend to incorporate features like:
Playlists of learning or learning tracks
Subscribe to playlists to keep up with new developments
Recommended learning content based on employee profile and interests
Social learning (e.g. chat and forums)
Gamification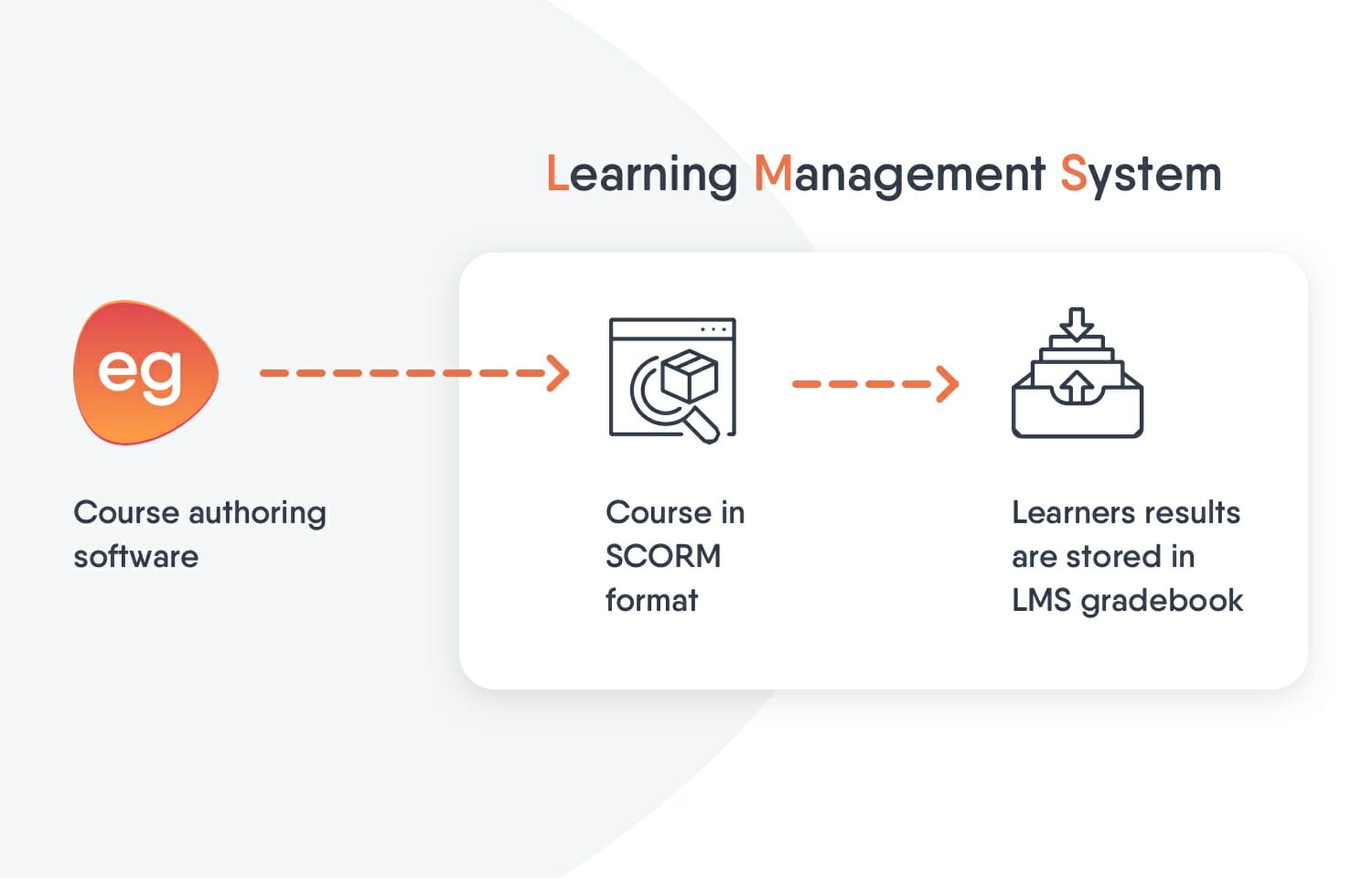 Learning needs are changing. Learners now expect the flexibility of mobile and just-in-time learning, incorporating engaging interactive elements. Meanwhile, L&D teams are struggling with reduced budgets and resources.
In order to meet these needs, L&D teams are increasingly switching to a bottom-up approach. Instead of learning needs being dictated from the top (with the exception of compliance and regulations), employees are taking control of their own learning paths.
Rather than outsourcing course creation to expensive instructional designers, subject matter experts (SMEs) – usually employees – create the learning content directly. This is known as Employee-generated Learning (EGL).
To achieve this bottom-up approach, L&D are creating a learning ecosystem of tools, people, content, and culture, of which the LMS is part.
The tools used in a learning ecosystem often consist of:
LMS for sharing content and tracking results
Zero learning curve authoring tool for SMEs to create courses
Video editing software
Graphic design tools
Podcast recording software
If you're interested in learning more about the shifts occurring in the L&D industry right now, give this blog series a read. In this, we look at the trends that are shaping L&D, as well as how this is affecting the tools we use and how we create learning content.
What about an LMS-Lite?
An LMS-Lite is an authoring tool with extra LMS-like features. Easygenerator is an example of an LMS-Lite. As well as allowing you to author e-learning courses, you can publish and share courses, and track your learners' results. It strips back all but the essential features to make it quick and easy to master.
These LMS-Lite authoring tools are often much easier to learn and use than complex LMSs designed for experts. If your budget is limited, an LMS-Lite could also be a more cost-effective solution than an expensive LMS.
An LMS-Lite authoring tool allows you to publish outside of a traditional LMS – a big plus if you need to train contractors outside of your organization.
Do you need a separate authoring tool?
Most LMSs will include some authoring features. However, these are often complex and built with instructional designers in mind. So this is far from ideal if you're moving to Employee-generated Learning.
Here's how one Easygenerator customer described LMS authoring features:
"It was so intimidating how much you had to do to make things happen in that system [the LMS], it wasn't intuitive to me. There are people who specialize in that, but I didn't have the time to invest in learning how to do that. The ease of use was crucial."
For a bottom-up approach, you should opt for a separate zero-learning curve authoring tool which will enable your employees to focus on creating effective and interactive learning content, without fussing over the pixel-perfect design.
The biggest benefit of a separate authoring tool and LMS though, is that you can enjoy the modern course design features that a specialized content authoring tool can give you, while still gaining the benefits and features of a central learning platform.
If you do opt for an authoring tool in addition to an LMS, you need to ensure that the courses you create are SCORM-compliant (a result tracking format). SCORM and results tracking is a topic in itself, so if you want to learn more, take a look at our complete guide to SCORM and xAPI.
For more about the differences between LMSs and authoring tools, take a look at this blog post.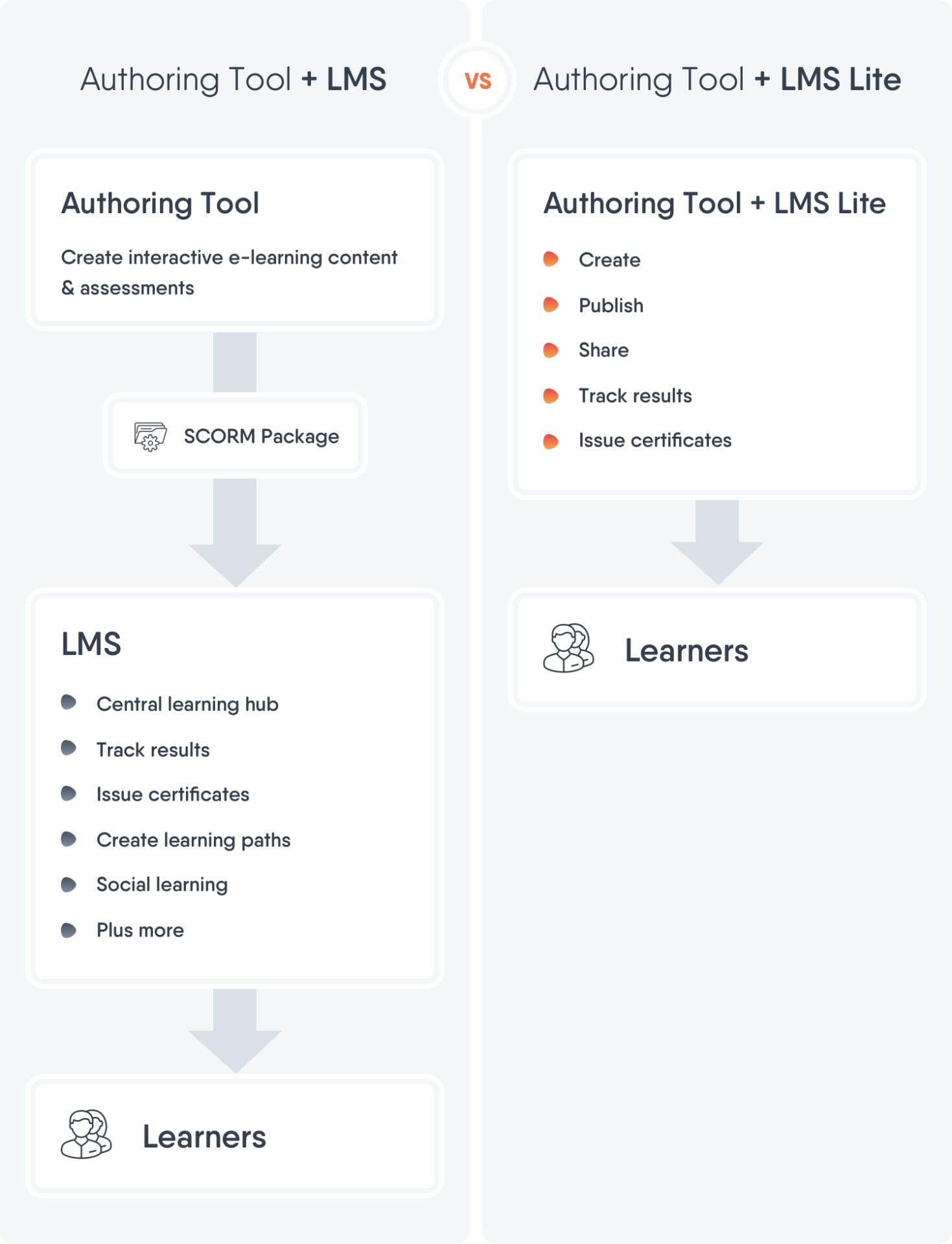 LMS vs. LXP
Learning is changing. We need different skills in today's workplace than we did even 10 years ago. To meet these needs, a new system has arisen in the learning ecosystem that meets just-in-time learning needs: the LXP.
An LXP (learning experience platform) is a smart, user-friendly, and intuitive platform. Like the Netflix of e-learning. It brings learning content and materials together in one place and facilitates a more collaborative, personalized, and accessible learning experience.
They differ from a traditional LMS, operating as open systems that actively promote employe-driven content creation and sharing functions. They move beyond the compliance-learning focus of an LMS, instead, engaging and empowering staff to take ownership of their personal development.
But this is not to say that the LXP is the be-all-and-end-all. It's not without its flaws.
"It's the equivalent of walking into the library and searching for a book when what you really wanted was to simply land on the pages you needed." – David Perring
In terms of answering employees' learning needs, while in their flow of work, the LXP is not the answer. But, when moving to a bottom-up Employee-generated Learning approach, these systems are a big step in the right direction.
The LXP can outright replace an LMS, or work with an existing system as a complementary piece of software that streamlines and improves using smarter search functions. But whether you need an LMS, an LXP, or both comes down to your organization and your learners' needs.
As we've touched on already, L&D is experiencing a tectonic shift in how it approaches employees' learning needs. As employees increasingly need just-in-time resources, the top-down approach that has defined the industry no longer makes sense for all training. And it's this top-down approach that the LMS is designed for.
Often, LMSs are cited as a requirement when it comes to compliance training and regulations because of the need to track results and issue certifications. However some authoring tools, Easygenerator included, now offer these features – essentially operating as an "LMS-lite". You can learn more about how Easygenerator can support compliance training here.
But to really answer the question, 'Do I need an LMS?' you need to think about the bigger picture, the bigger learning ecosystem. Ask yourself what are the right tools to empower my learners and course creators, and help create a modern, proactive and strategic L&D service.
We've created a quick tool to help you decide whether you need an LMS or not. Answer a few questions and we'll recommend whether an LMS is right for you. Take a look here.
L&D is changing and with it, the tools we use. Once the core of e-learning, the LMS will slowly fade to a smaller role within the "learning ecosystem".
For many organizations, and possibly yours as well, the LMS still plays a central role in sharing and distributing learning content. But an LMS is no longer the only option. And in order to meet your learners' changing needs, you should look beyond this staple. That could be expanding the tools you use, or looking for an alternative to an LMS, such an LXP or LMS-Lite.
Whether an LMS is right for you or not will depend on your organization and what you're trying to achieve. But we'll do our best to help you decide.
If you'd like to know more about how LMSs and authoring tools differ and work together, take a look at our blog post: What's the difference between an authoring tool and an LMS?
Or for a quick idea of whether an LMS is suitable for your organization's needs, read our blog post: Do you need an LMS?