How to create an effective employee onboarding program
This guide contains downloadable worksheets to help you create a new hire onboarding program. Make your employees feel welcome and prepared to do their best work.
Onboarding employees is about more than HR paperwork and showing new hires to their desks. In fact, research shows that onboarding is one of the most important parts of an employee's experience. When done right, it not only sets new employees up for success but also promises many benefits for the organization. By the end of this guide, you'll know what it takes to make a successful employee onboarding program.
Onboarding and training. These terms are often used when it comes to hiring a new employee, but what do they mean? Can they be used interchangeably? And if not, what are the differences between onboarding and training?
What is onboarding?
Starting a new job at a new company can be nerve-racking for anyone. From meeting new teammates to adapting to a unique company culture, it's not easy navigating an unfamiliar environment while feeling the pressure to fit in. This is where an onboarding program can help.
An effective onboarding program can include all kinds of activities to help integrate a new employee. Some examples include giving an office tour or holding an introductory meeting to get them acquainted with new teammates. With an authoring tool like Easygenerator, you could also create an online course to share an overview of a company's history, culture, and values.
What is training?
While onboarding focuses on helping new employees adjust to their environment, training focuses on the technicalities of their role. This can include training them on company technology, integrating them into internal systems, or teaching them important procedures. The goal is to equip them with the technical skills they need to complete their tasks confidently.
In short, onboarding and training aren't the same things. But together, they create a meaningful process to help a new employee smoothly transition into their new role and workplace.
A well-planned onboarding program can make all the difference between a new employee feeling welcomed and feeling insecure or invisible. But the importance of onboarding goes beyond simply making sure a new hire has a good first day of work. In order to achieve that, it's important to know what to include in a new hire welcome kit.
Onboarding is an opportunity to communicate the company's expectations and share what it has to offer. In return, its success can lead to higher levels of employee engagement and lower turnover rates — among many other benefits.
Here are the top organizational benefits of an employee onboarding program:
Less micromanaging; more trust and productivity
When you equip new hires with the tools and information they need to succeed from day one, you not only shorten their learning curves but also empower them to take ownership of their roles early on. This reduces any need to micromanage along the way and creates room for trust between employees, increasing the chances of productivity.
Empowers communication across the corporate ladder
There are many benefits to encouraging communication between junior employees and their higher-ups during the onboarding process. For one, it allows new hires to envision their possible career paths within the organization, signaling room for growth. At the same time, it also presents more senior employees as approachable people, paving the way for a culture of mentorship and learning.
Creates a sense of belonging and commitment
Making sure a new employee understands the company's goals and how their role fits in can foster a sense of purpose early on. The sooner a new employee understands how they can contribute to the organization's success, the sooner they'll feel comfortable, equipped, and motivated to participate.
Better job satisfaction and employee retention
Research from Gallup reveals that having more engaged employees can improve the company's performance on numerous levels, including better customer ratings, higher profits, and fewer employee absences. And as a result, it also increases the likelihood that a new hire decides to stay at their job, which can be a huge cost-saver for companies.
Ensures all new employees understand company policies
There can be a lot of new information to keep up with when it comes to learning about company policies and procedures for the first time. An effective employee onboarding program not only shares this information with new hires but also explains how company policies affect their specific department and their role. This benefits both new hires and the organization, as both can be on the same page about expectations from day one. Creating digestible and engaging e-learning content can help convey this information effectively. Find out how e-learning can help your onboarding process.
Ultimately, the importance of onboarding in the workplace goes far beyond the individual employee's reaction. When done right, it can bring many benefits for the organization in return.
Key Fact
Research and conventional wisdom both suggest that employees get about 90 days to prove themselves in a new job. The faster new hires feel welcome and prepared for their jobs, the faster they will be able to successfully contribute to the firm's mission.
New hires who experience a positive introduction to the organization and their position tend to stay longer. So, onboarding programs must be as effective and intuitive as possible.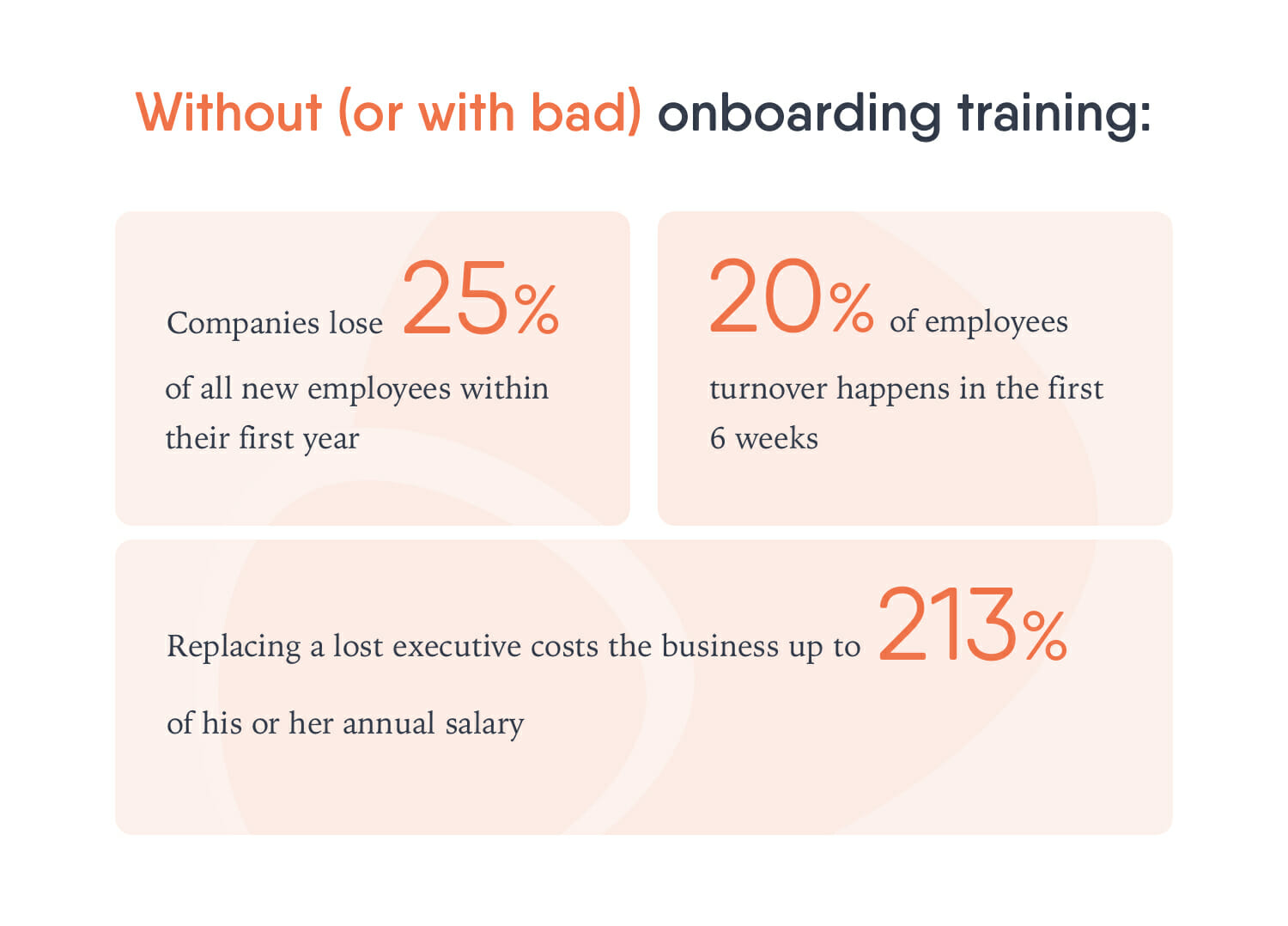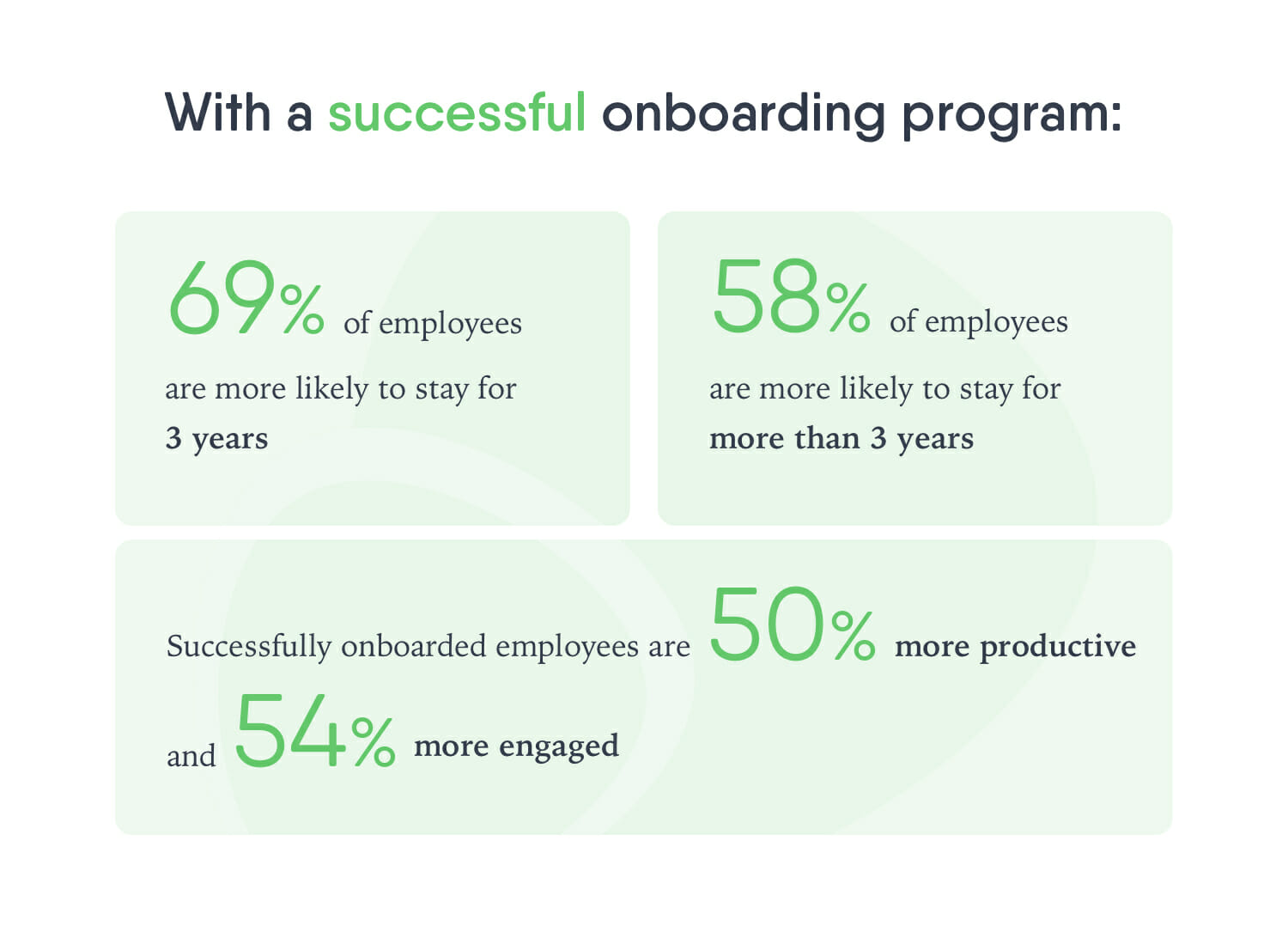 The employee onboarding process isn't limited to the employee's first few days or weeks on the job. It starts well before and continues as late as a few months into their new role. To design a new hire training program, consider the best practices below:
What should an employee onboarding program include?
Before they start
The recruitment phase is an important time to clearly explain the role, its position within the team, and the company's goals early on. This means the job description, company website, and interview process all make a difference in building a relationship between the employer and the prospective employee.
In addition to preparing effective interview questions, including a take-home assignment or test in the interview process can give employers a deeper understanding of how a prospective hire will do at the company. On the flip side, it also helps the prospective employee get a better sense of the role and the team's expectations.
But communication doesn't have to be limited to interviews. Ensuring the recruiter and even the hiring manager are available for questions throughout the hiring process and even after an offer has been made can also impact how welcomed a job candidate feels early on.
While the candidate reflects on their recruitment experience, it's also important for the company to be as transparent as possible about any information that directly impacts their experience. This could include communicating work-from-home policies or sick-day and vacation policies.
Finally, a successful employee onboarding program also accounts for what happens when a candidate does accept the job offer. Showing enthusiasm not only reassures them they've made the right choice but also reflects the company's continued interest in them beyond signing a contract.
First day
If the employee's first day is at the office, be sure to show them around and get them well-acquainted with the areas that they'll be spending their time in. This includes their desk, meeting rooms, where their manager and teammates work, restrooms, pantries, and other common or notable spaces.
If they'll be working remotely on their first day, set up introductory meetings where they can get acquainted with their key teammates. This not only benefits the new employee but also allows the team to learn to recognize their face and get to know them.
Whether online or in-person, the first day is about getting a new employee comfortable with their new, everyday work environment. It's important to ensure they have the tools and the sense of direction needed to navigate their new workplace.
First few weeks
A new employee will likely still be adjusting to the workplace several weeks after joining. During these first few weeks, the onboarding process can focus on continued integration. For example, sending out a company-wide announcement to welcome the new hire can ensure that every member in the organization is aware and can take the time to welcome their new colleague. It also fosters a sense of belonging and inclusion for the new employee.
You can also take the first few weeks to continue introducing a new employee to key members of the organization, such as heads of teams and executive leadership. If the employee is working remotely, you can do this by scheduling introductory meetings, giving them the opportunity to introduce themselves and interact with their new colleagues.
Checklists are a great way to provide new hires with a clear overview of all training or onboarding-related tasks they need to accomplish. It can cover anything from reminding new employees to update their email signature to reminding them to complete compliance training. Having a handy guide to refer to also empowers them to take ownership of their onboarding process rather than feeling overwhelmed by instructions.
Become a training expert
Looking for an effective way to onboard and train your hybrid workforce? Watch our free webinar on how you can leverage blended learning.
First few months
While it's likely a new employee may feel significantly more comfortable three months in compared to their first day, there are many benefits to continued onboarding. Scheduling regular check-ins can provide new employees with an outlet to share any feedback or voice any concerns they've developed along the way. This is especially helpful if they work for a large organization and aren't sure where to turn to yet.
Still, it helps not to check in with a new employee too often. They'll also benefit from having room to experience their new environment and form their own takeaways over time. Scheduling your check-ins at 2-week or 30-day intervals helps ensure that.
Apart from answering questions and simply sharing more information with them, it's also worth including team-building activities several months into an onboarding program. Encouraging new employees to schedule coffee dates with their colleagues, for example, can be a fun and informal way to get to know the organization. You can even match them up with a designated "buddy" in the company to be their go-to person to grab coffee with and ask questions to for their first few months.
But it's also important to determine what unique challenges your company faces with onboarding new employees before designing a program to solve them. Learn how to solve onboarding training challenges here.
Consider the 4 Cs of Onboarding
According to a study by Dr. Talya N. Bauer and the SHRM Foundation, an employee onboarding program should cover four main segments of information: Compliance, Clarification, Culture, and Connection (the 4 Cs).
Here's a checklist of pointers and sample content to help you cover the 4 Cs when designing your employee onboarding program: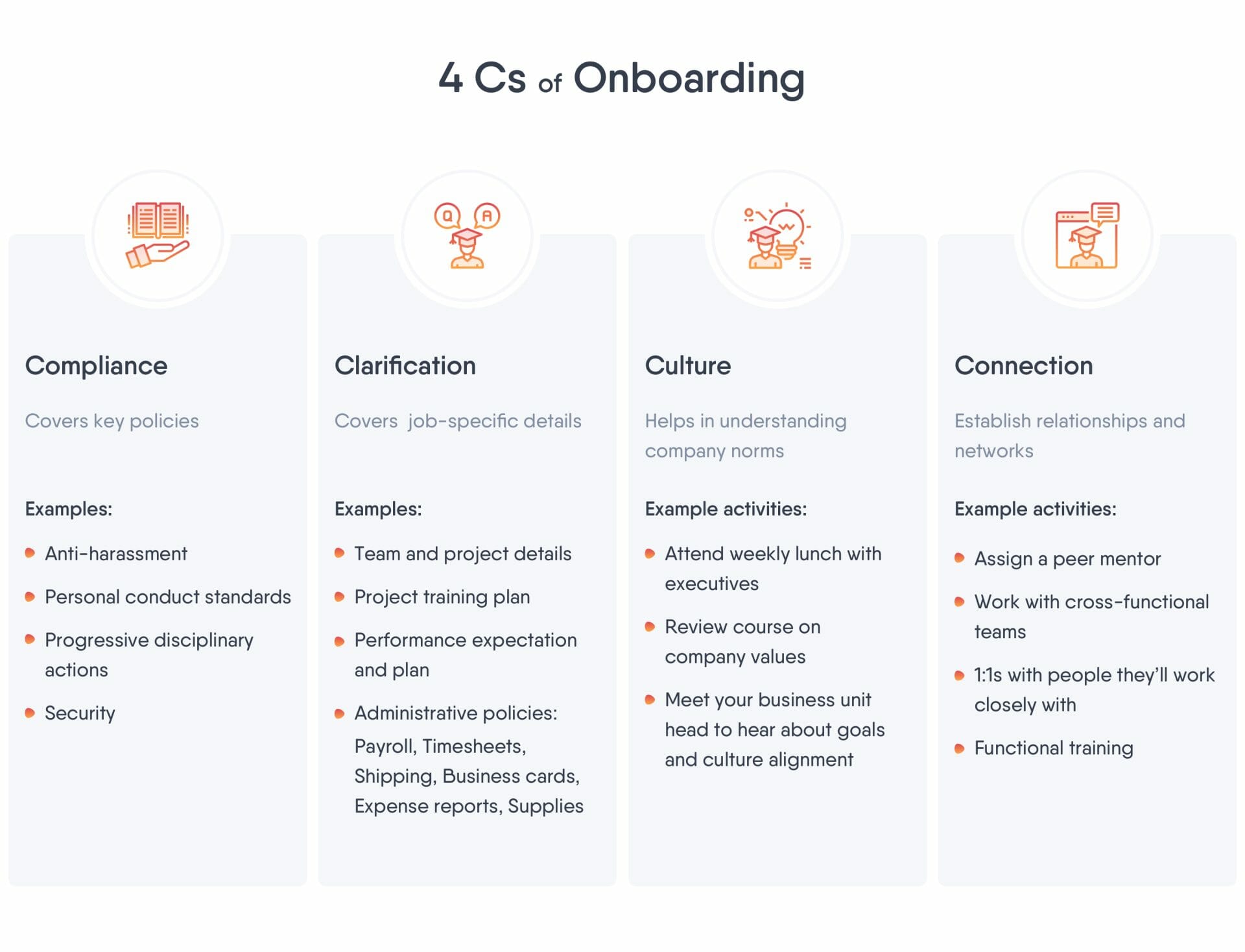 To help you get started, here's a downloadable template for you to design a tailored onboarding program based on each of the 4 Cs mentioned in the previous chapter:
For many new hires, onboarding training starts out enthusiastically with the very best intentions, but this momentum slows down after a few weeks. This is because new employees are usually caught up in the daily grind of work after a while and may not have the same level of interest as before. 
To ensure your organization doesn't get caught by this pitfall, here are a few best practices to help your new hires to flourish.
Plan your onboarding
1. Do your homework
The first place to start would be to understand how onboarding is done at the moment. Understand the areas of the program employees liked or disliked and why. 
E-learning authoring tools, such as Easygenerator, incorporate net promoter scoring (NPS) into courses, allowing learners to rate and provide valuable insight into the effectiveness of your course.
2. Ask the stakeholders
Speak to employees who went through the onboarding training recently on what they had expected from such a program. Ascertain their fears and insecurities about starting out in a new company. Speak to HR or the L&D Manager to understand the objectives of the program from a business perspective.
Some onboarding best practices would be to structure an onboarding program that:
Gives new employees a sense of comfort and a promising first impression of the organization

Lays out the organization's culture, values, and brand

Details the expectations of an employee, e.g., regulations and compliance

Describes the fundamental things an employee would need to know, such as the dress code, processes for leave application, and where the cafeteria is

Teaches them where they stand in the organization's structure

Shows them how valuable their role is to the organization's well-being and excites them about it
Design your onboarding
1. Personalize content, minimize repetitions and stagger the program
A good onboarding program for new employees teaches an employee what they need to know, and only what they need to know for their individual role. It doesn't drown them in the information that is mostly unnecessary. 
Also consider if some information can be found on your organization's intranet or website, e.g. the company's HR policies or organization charts. This then doesn't need to be repeated in the training.
Onboarding best practices would allow new hires the freedom to leave and enter the course at times it suits them best.
2. Employee-generated onboarding
One of the best, and most likely untapped, resources are your existing employees. Not only are these the people who already know all about your organization, but they're the ones best placed to tell the story of why it's such an amazing place to work. Inspiring your employees to share their knowledge, and empowering them to create their own content not only personalizes the onboarding process but also lets your existing employees feel valued.
Deliver your onboarding
1. Start even before day one
Using e-learning tools, such as online pre-assessments, employee onboarding training modules, and tutorial videos, you can actually start educating potential employees before they even officially join the company. This saves precious time once an employee is hired, giving you a firm grasp of where they stand in terms of skills and knowledge on day one.
2. Provide easy signposting
All new hires will come with queries and small issues they need assistance with – this is only natural when starting in a new place. With this in mind, it's key to signpost them to the right resources to ensure these queries can be answered quickly and easily.
Providing an online 'library' of key learning nuggets and resources will empower your new hires to quickly find the information required for their day-to-day jobs. When providing digital content, ensure not to overwhelm the employee with everything under the sun, but rather offer targeted content with key headlines, bullet points, and short pieces of information instead of a lengthy policy document. You can use a variety of formats to create short, focused, and crisp content with the likes of videos, quick guides, and infographics – these nugget formats have the maximum impact. 
3. Get the most out of the first week
The first week is crucial for getting the new hire off on the right foot, but it's important not to overload them. Make the most out of it by using an e-learning path. This is a series of training modules that the new hire can work through at his or her own pace in a low-pressure, interactive learning environment. The modules should cover all the basic topics (IT, policies, company culture) that new hires can master on their own. 
4. Onboarding, on-demand
The content of your employee onboarding training program will only be as good as the delivery methods you use. Think about how your new hires access information in their everyday lives and try to reflect this in the delivery of your onboarding. This can include making sure the content is available on-demand and accessible through a range of devices.
The easier and more accessible the content, the more engaged your new hires will feel. Furthermore, using this type of shorter and more accessible e-learning will allow new hires to quickly utilize the knowledge in their roles.
5. Share stories
While some information might already be on the organization's website or intranet, current employees have a wealth of knowledge not necessarily available on your intranet.
Online employee onboarding can also enable subject matter experts around the business to share their knowledge. This gives the new hire a more helpful in-depth insight into the organization, rather than a one-size-fits-all generic overview. Use stories or videos to demonstrate best practices or valuable lessons from such employees.
Onboarding program models
There are two common execution models for your employee onboarding program. Below we've provided you templates for both to help you roll out your onboarding.
30:60:90 Day Model
The 30:60:90 Day Model sets a clear roadmap for the new hires to inform them what is expected, stakeholders, dates, where they need to go in their first 90 days. Here's a sample breakdown of this model: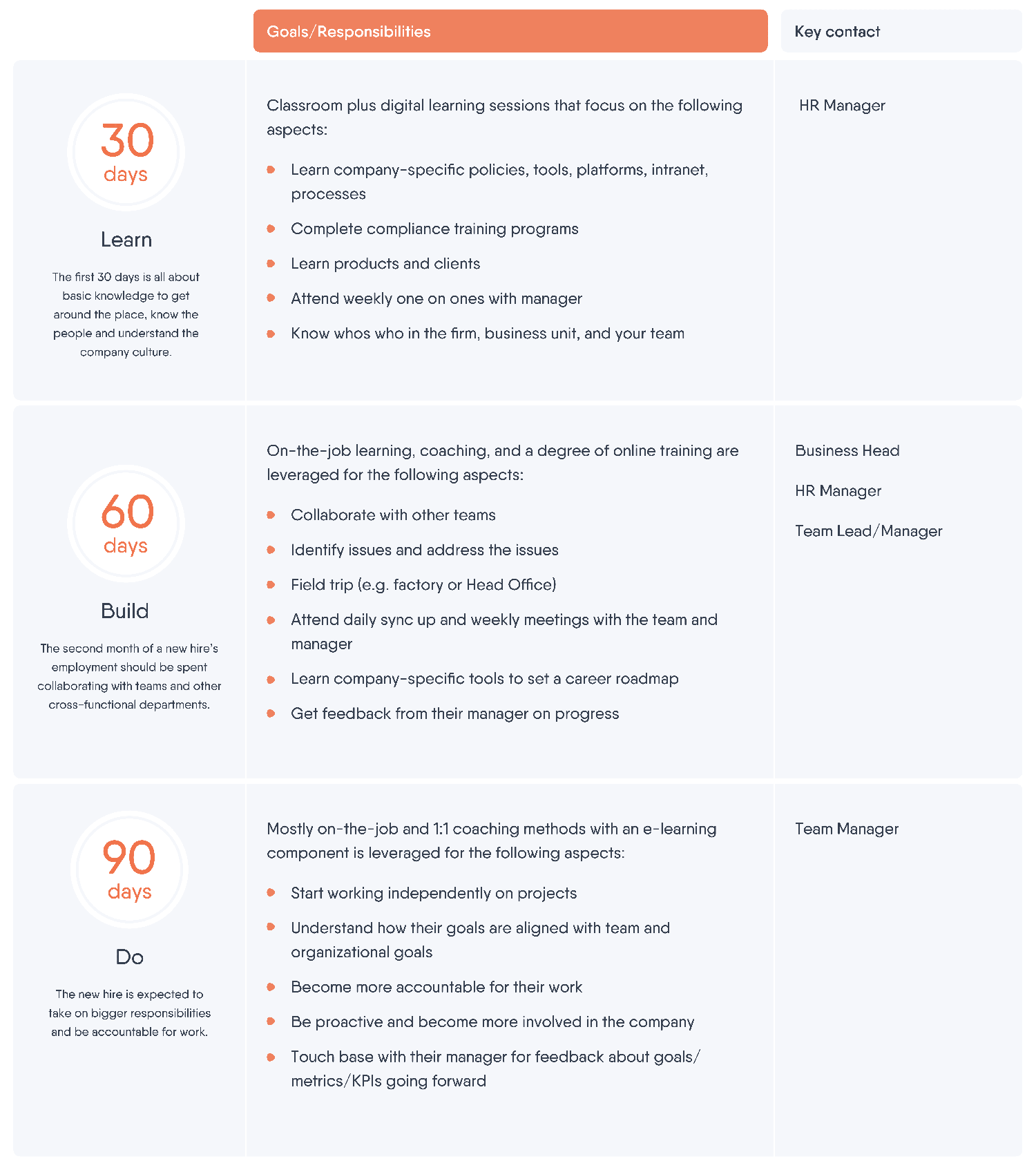 52 Weeks Model
Few organizations believe that a new hire can be onboarded overnight or even with a month's intensive classroom training. Rather, they believe in spacing out the whole onboarding journey across 12 months (52 weeks) and allow the employees to learn in a slow and settled fashion. 
The first week is usually allocated for the must-haves and must-know information bits in a classroom setting. This is followed by a blend of digital learning activities with minimal disruption at work. Allowing them to onboard themselves at their own pace.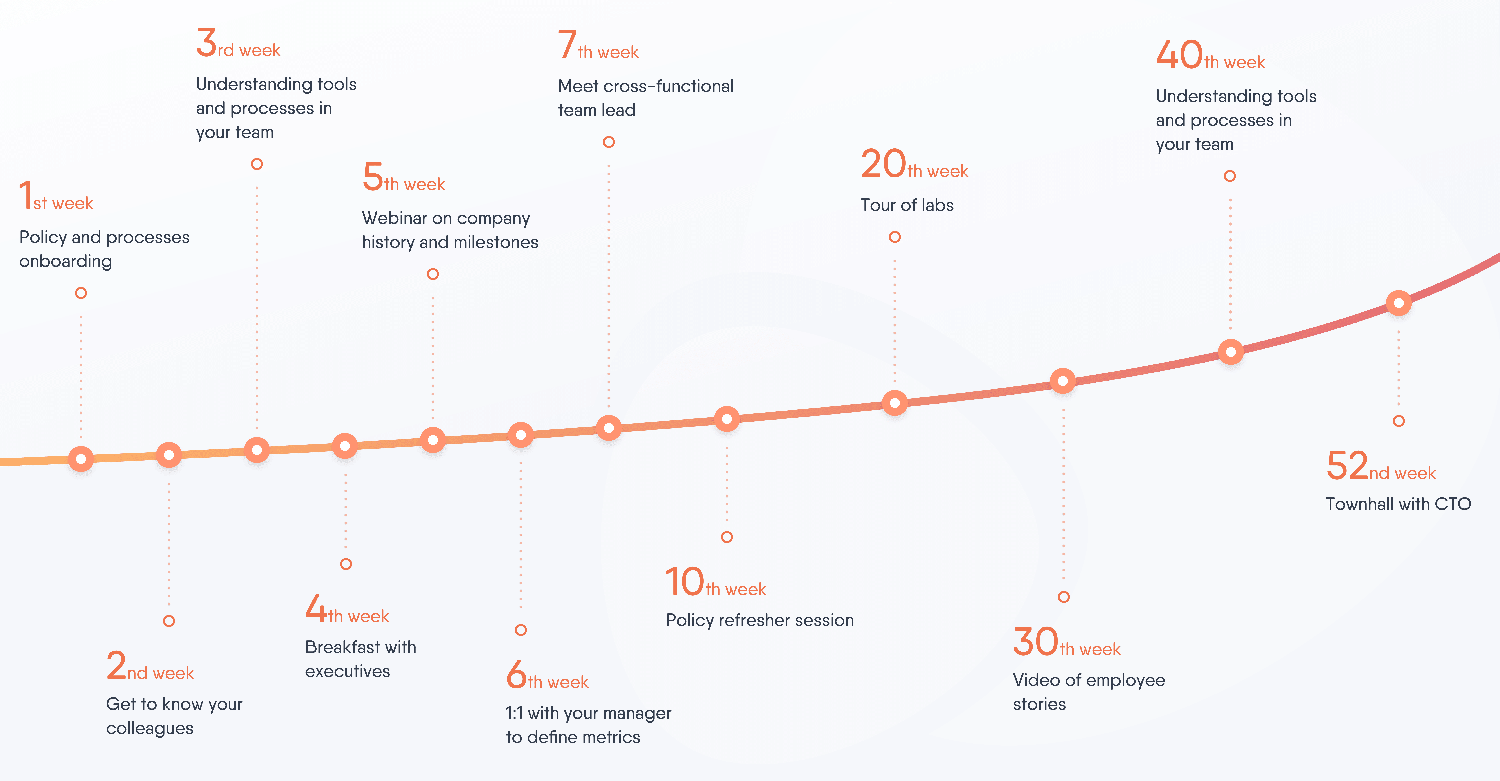 Improve your onboarding
1. Continuous improvement
Your onboarding program should never be viewed as a finished product. There is always room for improvement. One of the easiest ways to assess its success is to ask those that have most recently used it.
One great method for gaining course feedback is the net promoter score (NPS). Simply add an NPS survey to the end of each course, so new hires can let you know if they found the course useful.
Feedback will not only facilitate continuous improvement, but the information gathered can inform future recruitment processes and assist with corporate priorities. Don't forget that successful engagement from day-one, will likely lead to happier, more productive employees in the long-term.
2. Look at the bigger picture
No new hire can simply be inducted into an organization in a few short days and just expected to succeed. The very best onboarding training programs will provide long-term support to new hires and ensure that the onboarding process naturally links to annual performance assessments and discussions.
This creates the crucial 'golden thread' that links an employee's current performance right back to when they initially joined an organization. Setting up new employees for early success will equip them to achieve throughout their whole time with your organization.
As mentioned above, onboarding entails 4 main components: Compliance, Clarification, Culture, and Connection. Easygenerator can easily help you build courses in each of these components: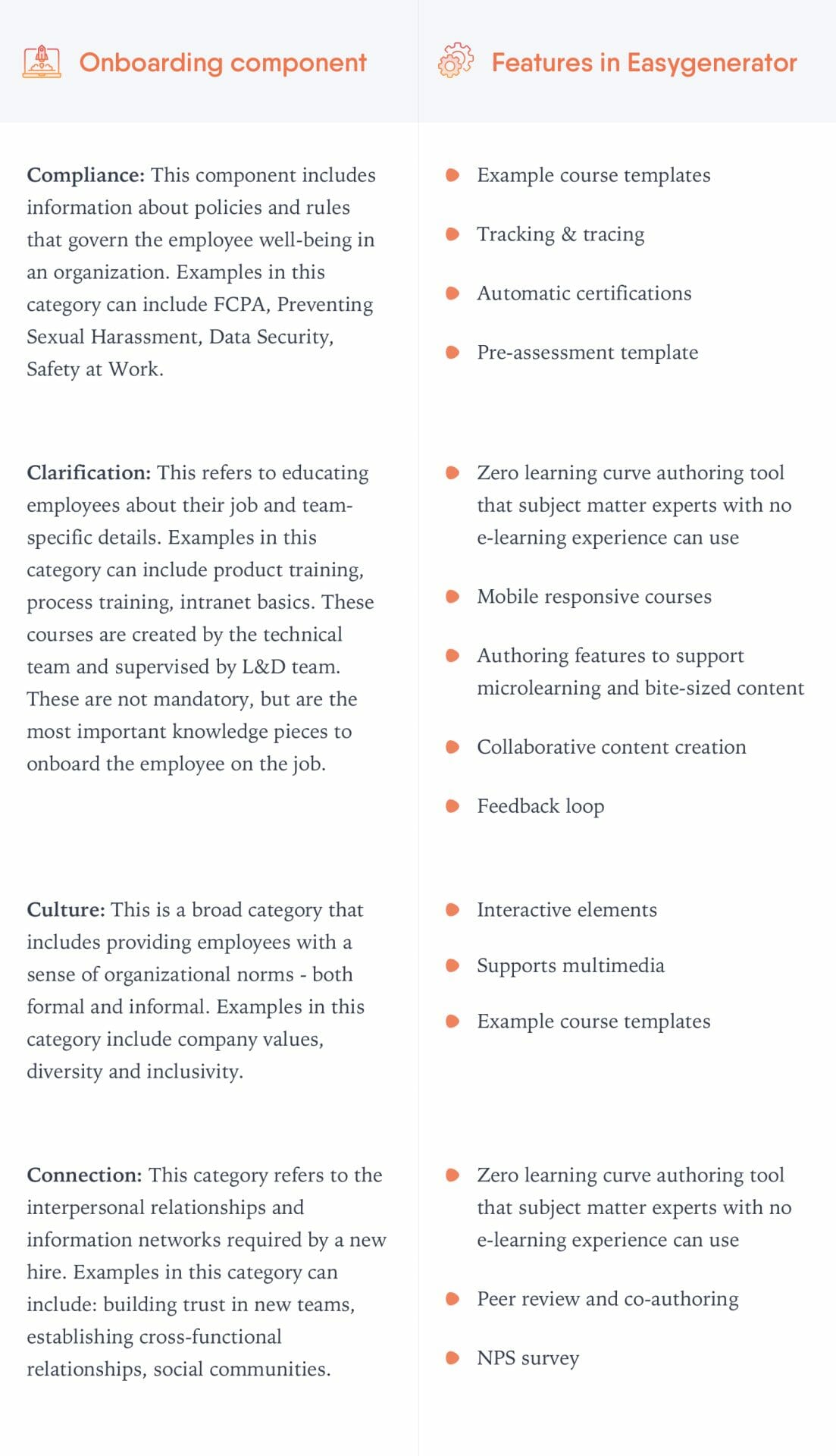 In addition, to help you kick start your onboarding training program in mere minutes, Easygenerator has developed the Onboarding Starter Pack with a selection of example onboarding courses, designed by our didactic experts, ready for you to start using.
And with that, you should be fully prepared to launch an engaging and effective onboarding training program!