One platform for easy digital learning
We make e-learning easy. Use a template, add content with drag-and-drop modules, change brand elements, publish in a few clicks, and then automate the process.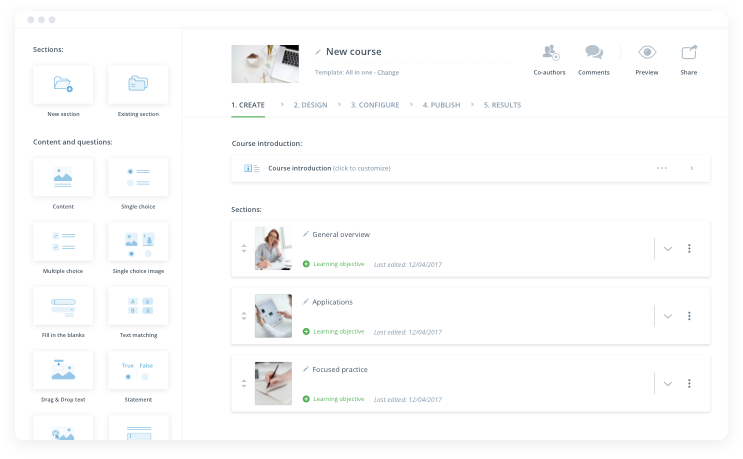 Start my trial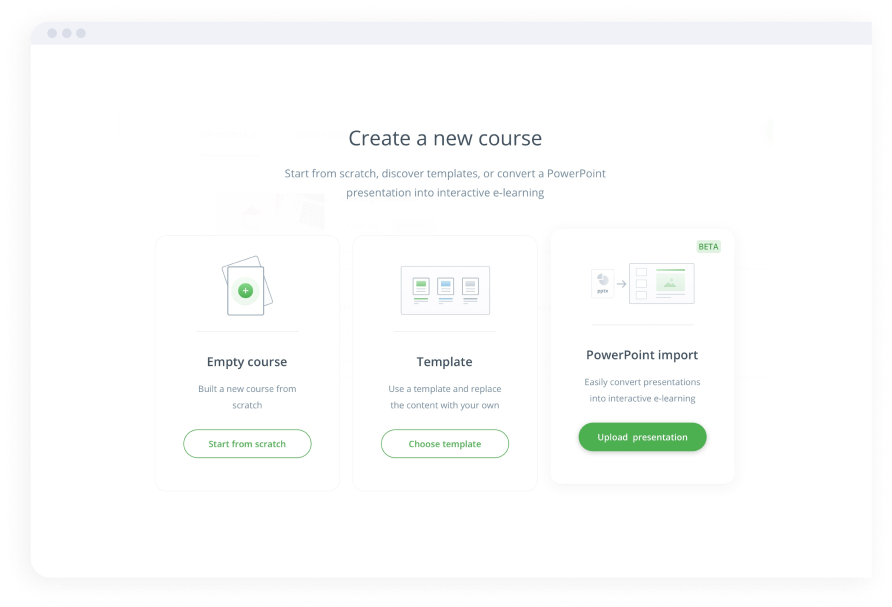 Resources that give you a head start
Kickstart your creation process by choosing a topic from our
pre-made templates
. Just pick, customize, and share!
Transform your PowerPoint files into e-learning courses in just a few clicks with our
PowerPoint import
feature. Take advantage of the powerful benefits Easygenerator has to offer to make your courses stand out.
Give learners the right information at the right time with performance support resources. With Easygenerator's Checklist and How-to guides, learners will have job-aids at their fingertips.
Choose from over one million stock images to enhance your courses and give them a fresh look.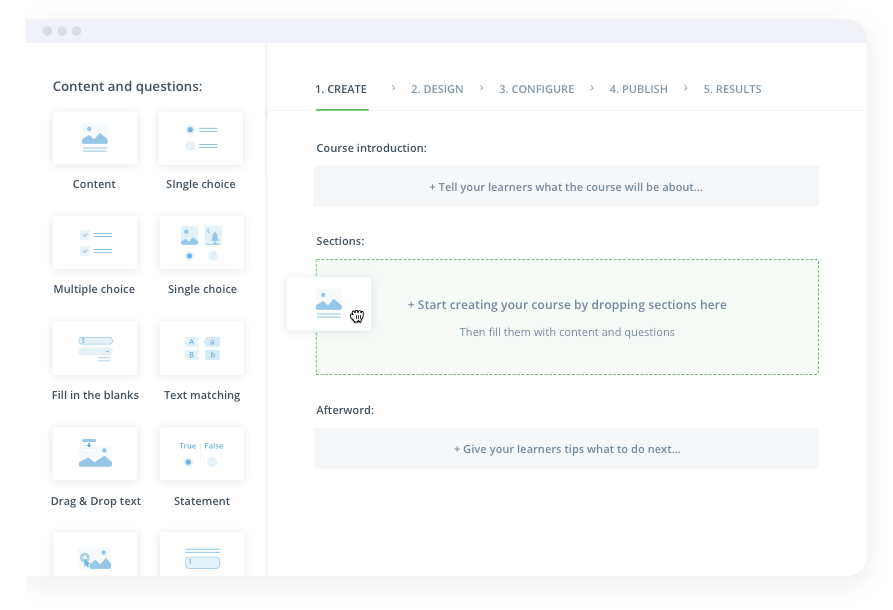 Ease of use and freedom to create
Our drag-and-drop features are what makes the magic happen. Choose one of 11 content modules, drag it to the right place, drop it, and add your content to create interactive training.
Or use one of 10 question types to assess your learner's knowledge and immediately gather feedback.
Need a hand creating the perfect training? You can get various. Invite an unlimited number of co-authors to collaborate with or review your work.
For an accessible, seamless, and enjoyable e-learning experience, Easygenerator is built to support Web Content Accessibility Guidelines (WCAG) and Section 508 accessibility standards.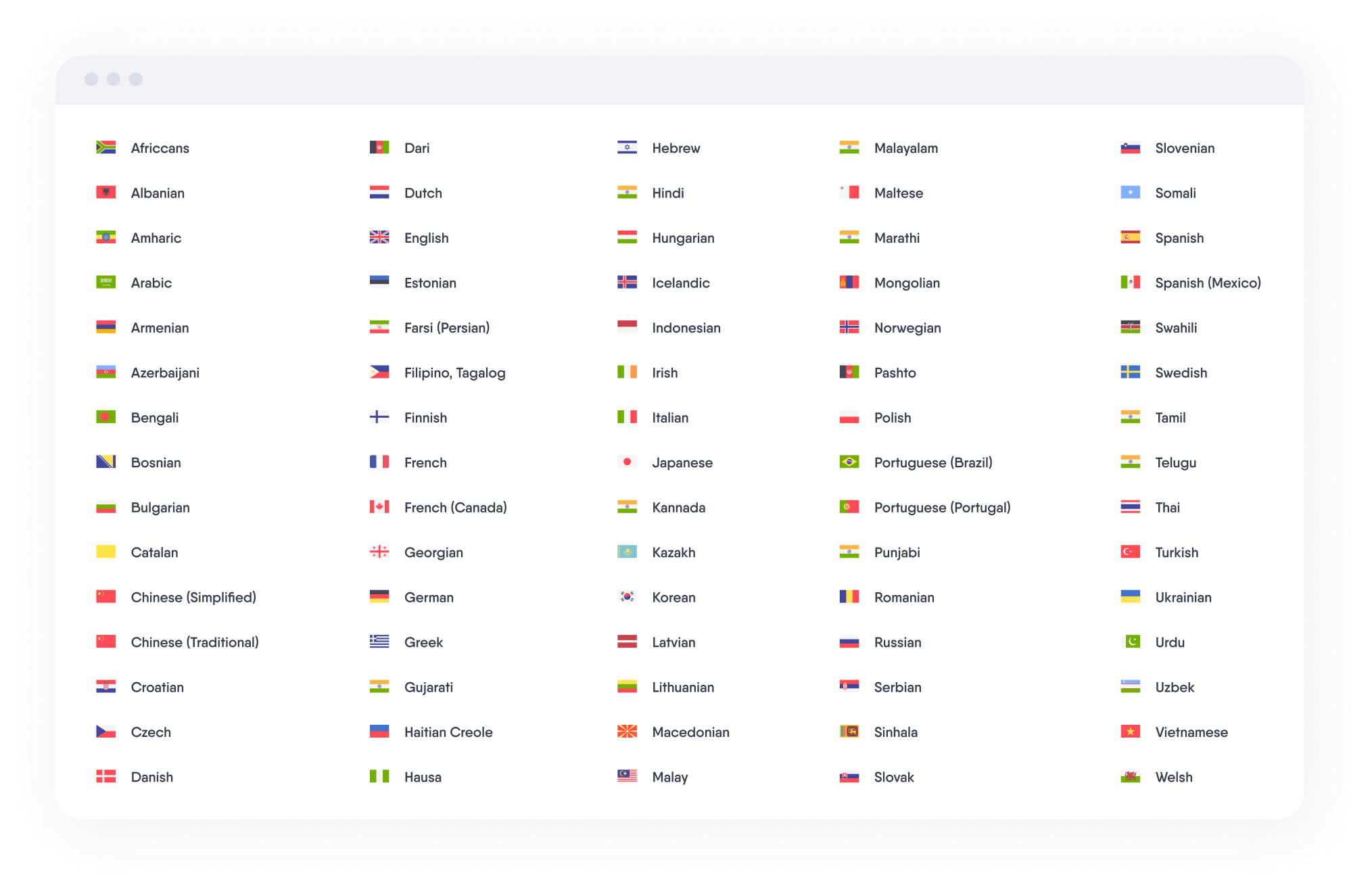 Course auto-translation into 75 languages
Translate your courses to and from 75 languages in a few clicks with translation powered by Amazon AWS
Manage your e-learning localization from start to finish in one zero-learning curve solution
Accelerate the translation process and save money along the way by localizing your e-learning in-house
Ensure you are always on brand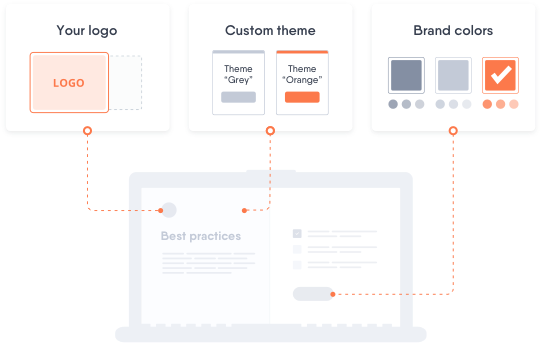 Want to design trainings according to your brand guidelines? Of course. Change colors, themes, add your logo and let your brand shine through your courses.
If you need help, our Customer Success team is there to ensure your courses follow you brand book and look top-notch.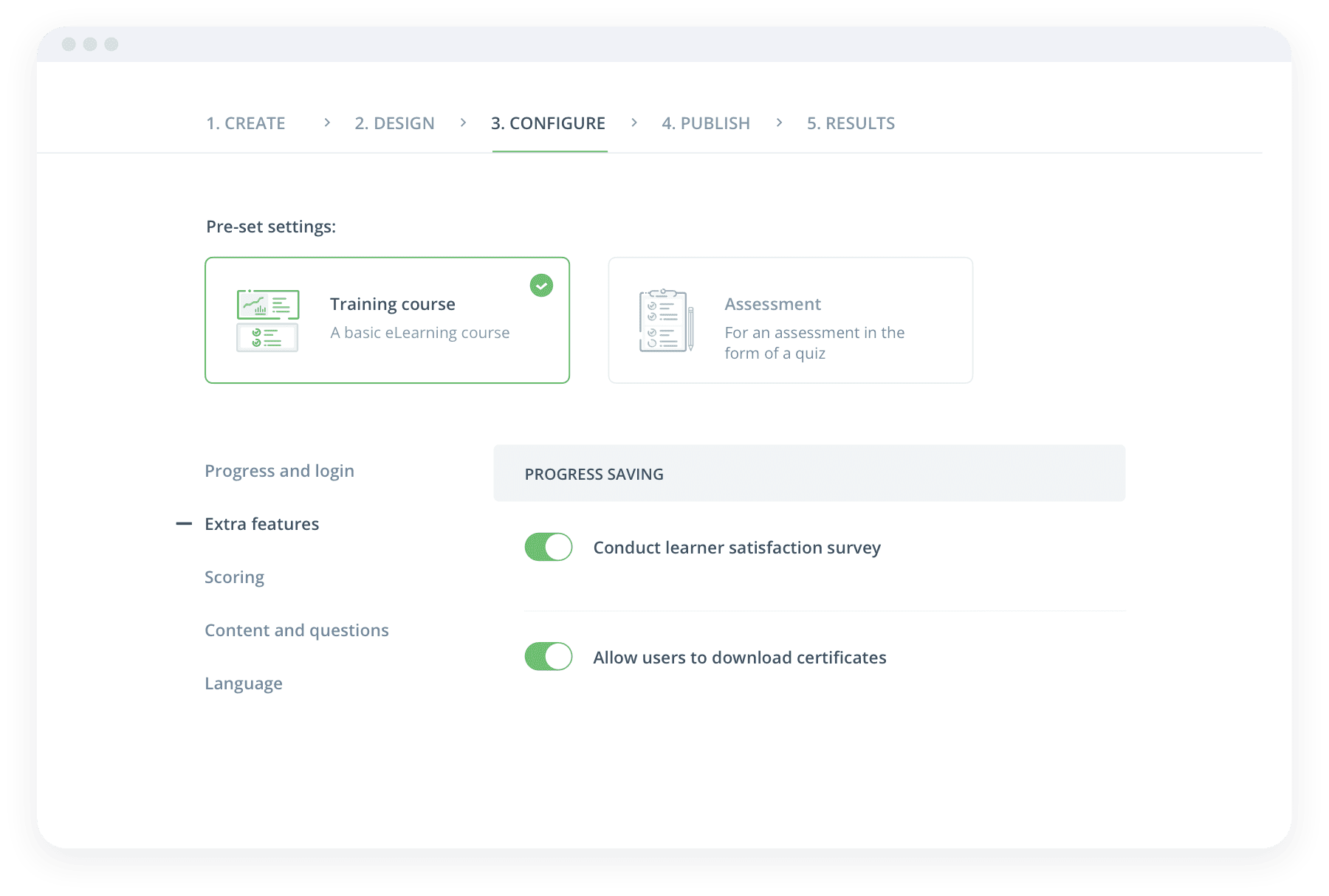 Control your course settings
Manage your course settings depending on your goals and needs. Want to know when people complete a course? Track it.
Want to send all of them a certificate? Automate it so you don't have to do it manually.
Want to know what learners think of your training? Conduct satisfactory surveys with the switch of a button. You can collaborate efficiently by giving admins, authors, co-authors, and reviewers the correct rights for each of your courses.
Looking to localize a training to international teams? Adapt our software to one of 30 languages.
Publish trainings in just a few clicks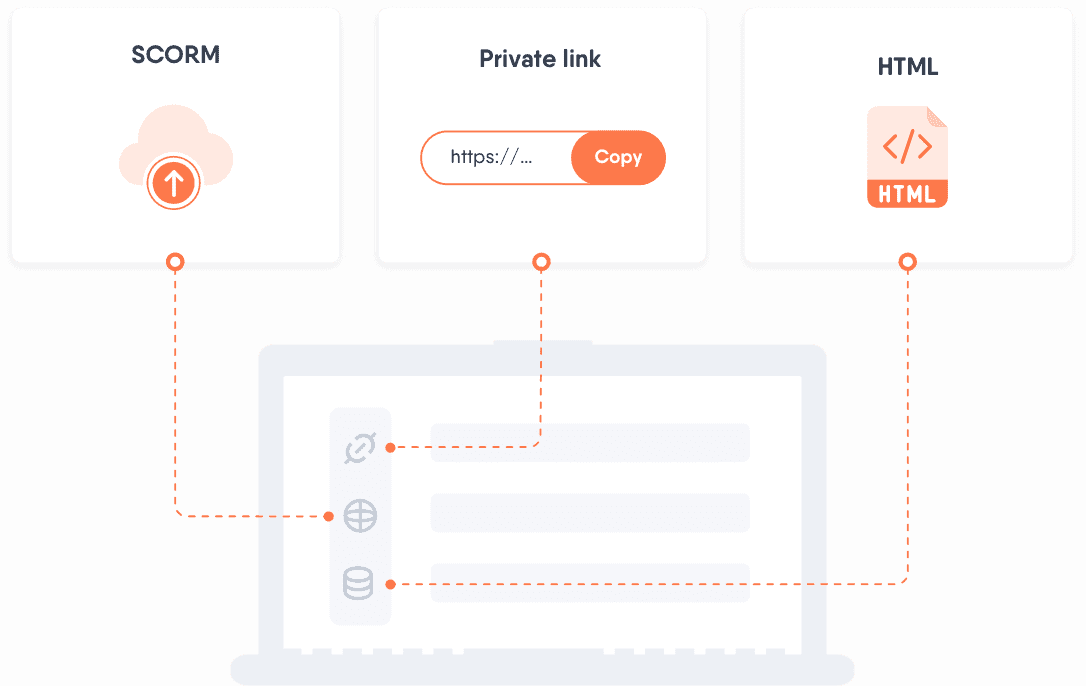 Publish your courses with Easygenerator's secured hosting and generate a private link to share it with co-workers.
Export your content in an HTML package to run on your website or download SCORM and xAPI packages to embed it in your LMS or LXP. Easygenerator also offers direct publication into Edcast.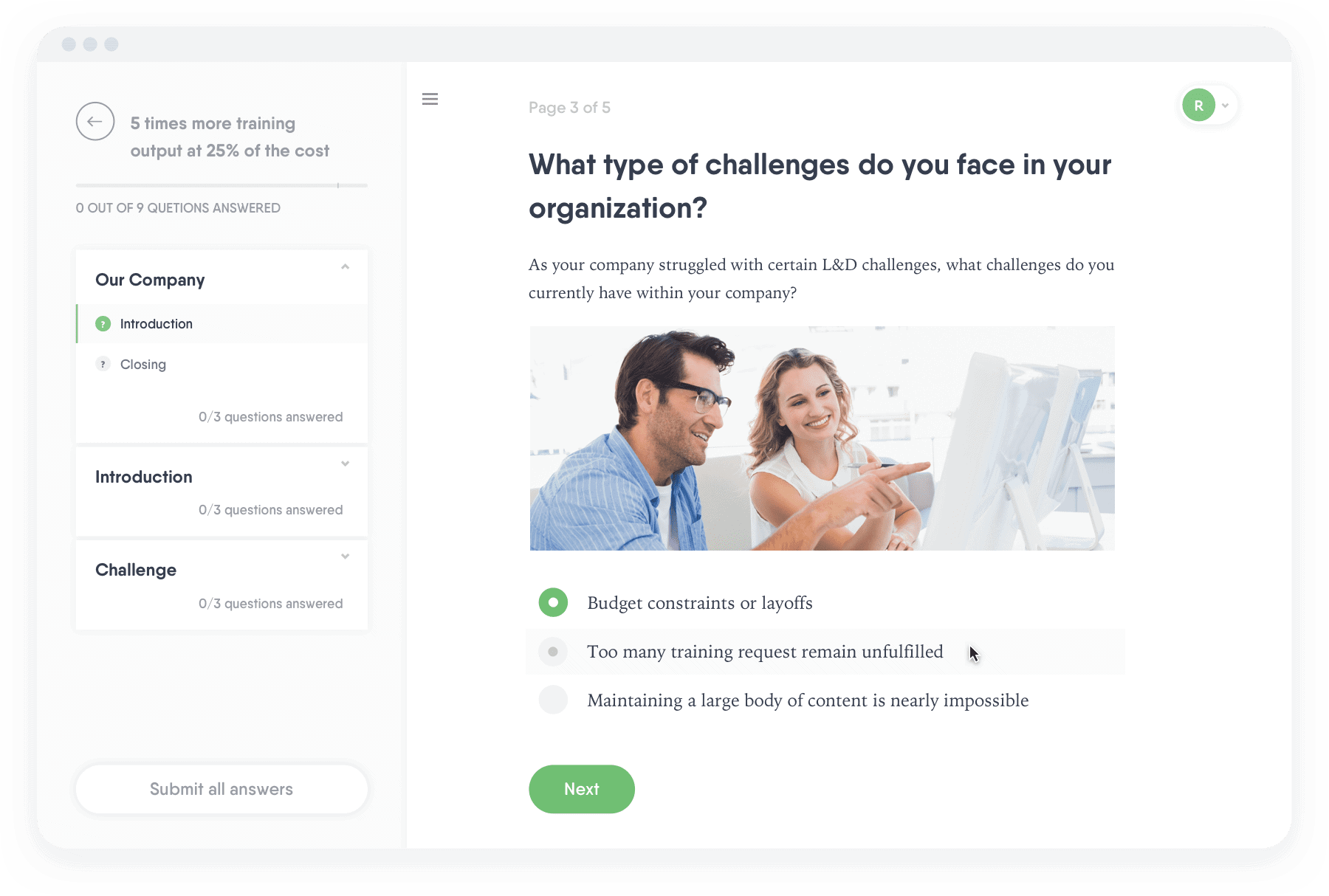 Scale the process
Admins can lock settings for branding, result tracking, and configuration with one switch. That ensures you don't have to take the same steps each time, and that your training is consistent.
Now you can let authors focus on creation with the knowledge everything will go right with publishing training.
Get the data that really matters
Now that you have published a training, don't you want to know whether learners find it engaging? You can track extended results to find out when they learn the most, what questions they had to redo, and many more behavioral metrics to optimize your courses and make sure they truly fulfill your learners' needs.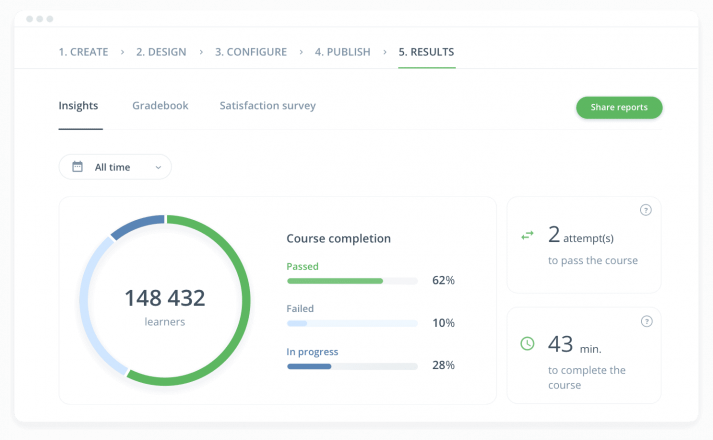 Interested in our easy-to-use tool?
Feel like creating training and enjoying Easygenerator's ease of use? That's great news. You can try out our tool for free for 14 days. Prefer to get to know our tool better? Schedule a personalized demo with an e-learning expert.