Your complete employee onboarding toolkit
This guide is full of downloadable checklists and plans that will help you create a new hire onboarding program. Make your employees feel welcome and prepared to do their best work.
A well thought out onboarding training program can make all the difference between a new employee feeling welcome in their workplace and striving to achieve their best, and feeling insecure and invisible.
Key Fact
Research and conventional wisdom both suggest that employees get about 90 days to prove themselves in a new job. The faster new hires feel welcome and prepared for their jobs, the faster they will be able to successfully contribute to the firm's mission.
New hires who experience a positive introduction to the organization and their position tend to stay longer. So, onboarding programs must be as effective and intuitive as possible.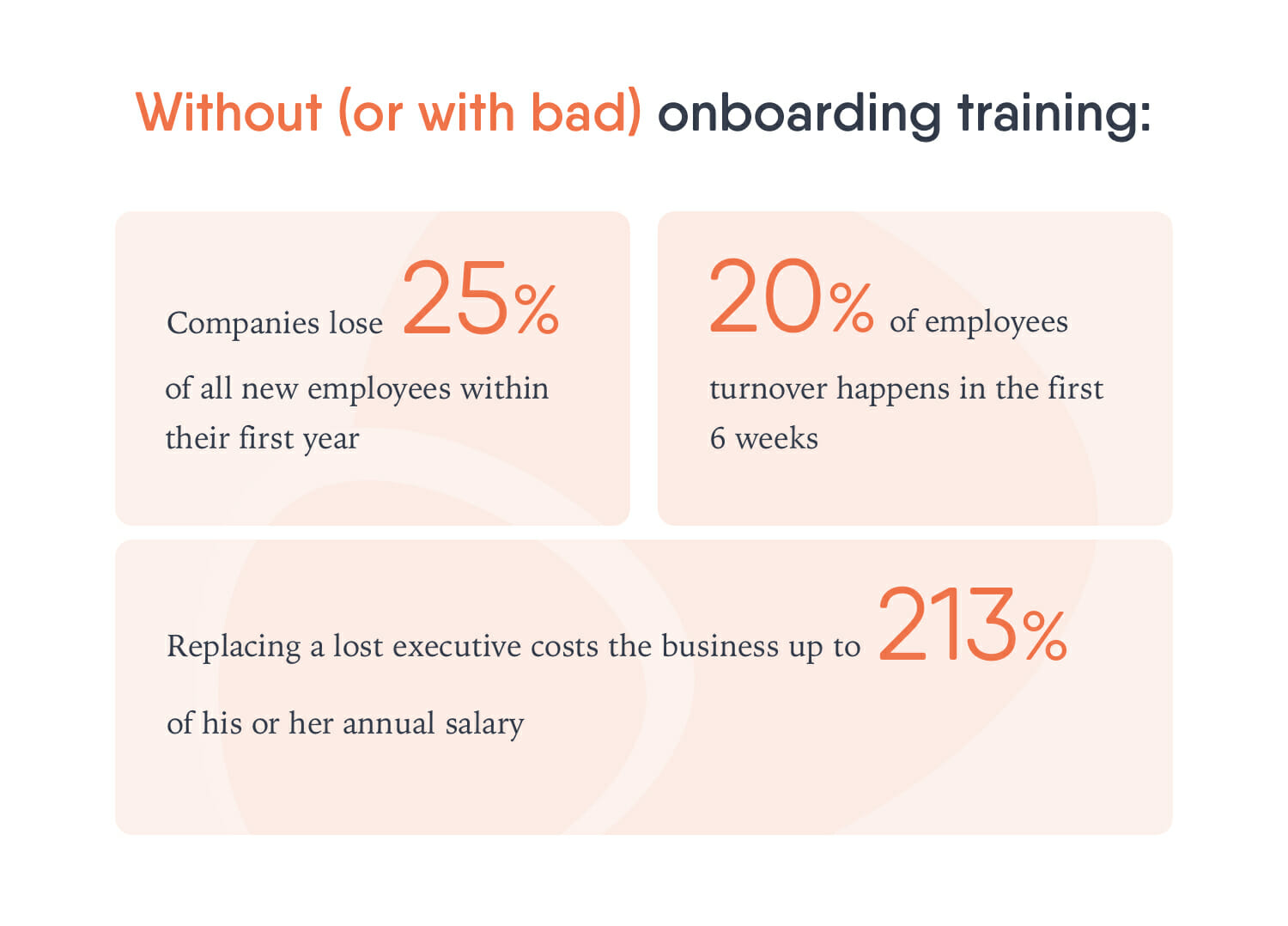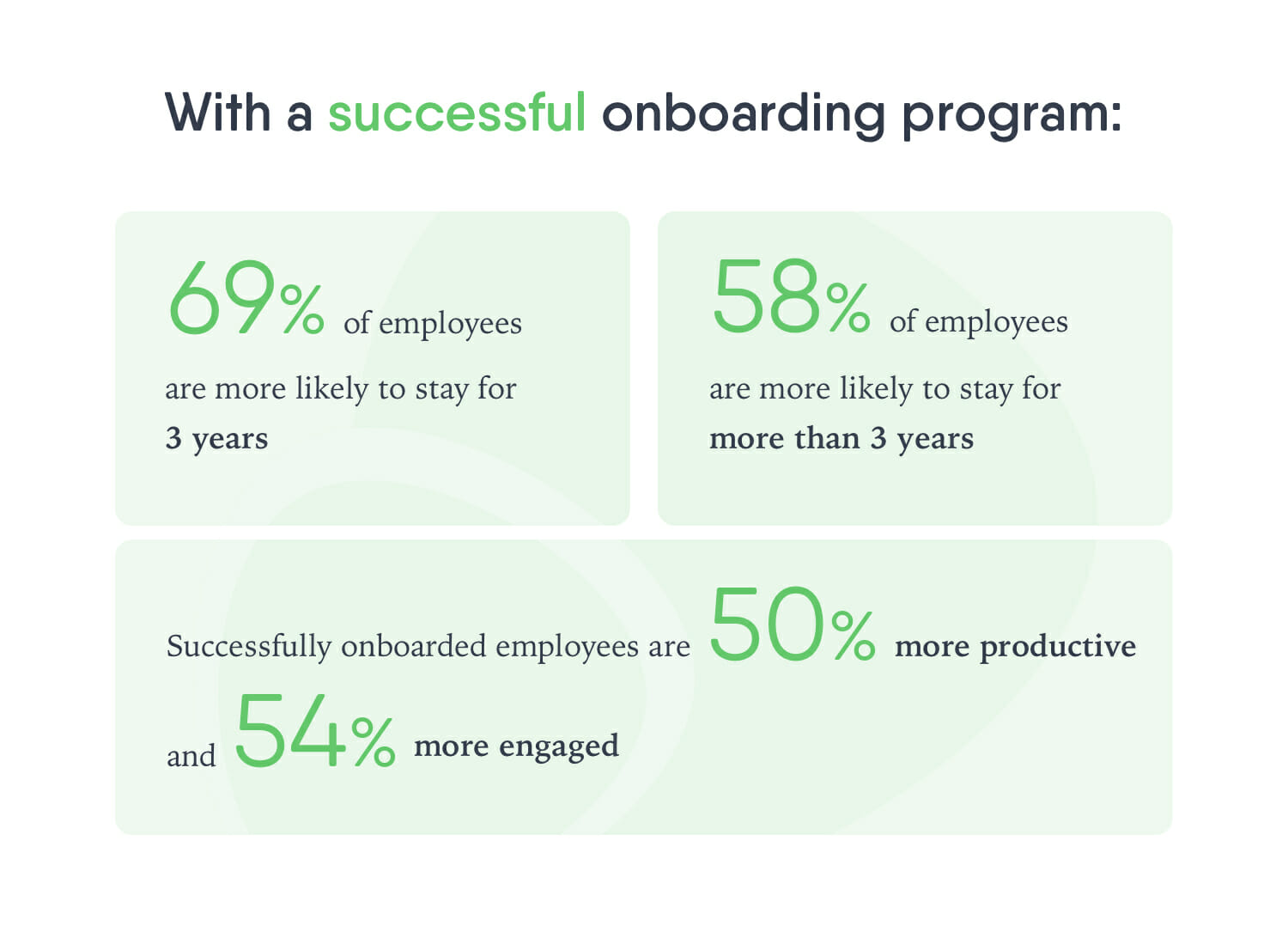 The typical routine for a new hire training program is to have a classroom setup. But this can involve high costs and a lot of resources. With all the paperwork, it can be an administrative nightmare. It also takes employees, both new and current, away from their work, which can be frustrating.
More and more organizations are now incorporating (or switching to) e-learning in their new hire training programs, as a flexible, intuitive and cost-effective alternative. E-learning can improve your new hire onboarding in many ways, including:
Overcoming information overload.

By creating a digital library of learning nuggets, or "microlearning" modules, new hires can learn at their own pace. They can focus on specific topics, without becoming overwhelmed. These digital modules can even be made available on mobile devices.

Increasing engagement. It is all too common for new employees to experience death by PowerPoint in their first week of a new job. By using e-learning in combination with an Employee-generated Learning (EGL) approach (where the company's expert employees create learning content), new hires benefit from having extremely relevant, hands-on training material, written by people who have first-hand knowledge of the job.
Keeping track of certifications.

You often need to ensure that your new hires have passed certain mandatory training, such as health and safety or data security. Especially if you have a large number of new hires starting at once, it can be difficult to track results and certifications. With e-learning, this can all be automated.

Tackling too many training requests.

New hire training can have a big demand on your resources, taking existing employees away from their busy schedules. Creating a digital library of e-learning, while having an initial outlay in resources, enables you to quickly onboard new employees without disrupting business as usual.

Sharing company culture.

E-learning can also help new hires become familiar with the company's culture. Again, by employing an EGL approach, new employees will be learning straight from their peers. This creates a strong team spirit from day one and encourages new employees to

contribute their own knowledge and ideas

. That way, they can leave their mark on new generations of employees themselves one day.
According to a study by Dr. Talya N. Bauer and SHRM foundation, employee onboarding must cover four main segments of information: Compliance, Clarification, Culture, and Connection (the 4 Cs).
Here's a checklist of pointers and sample content to help you cover the 4 Cs when designing your onboarding training: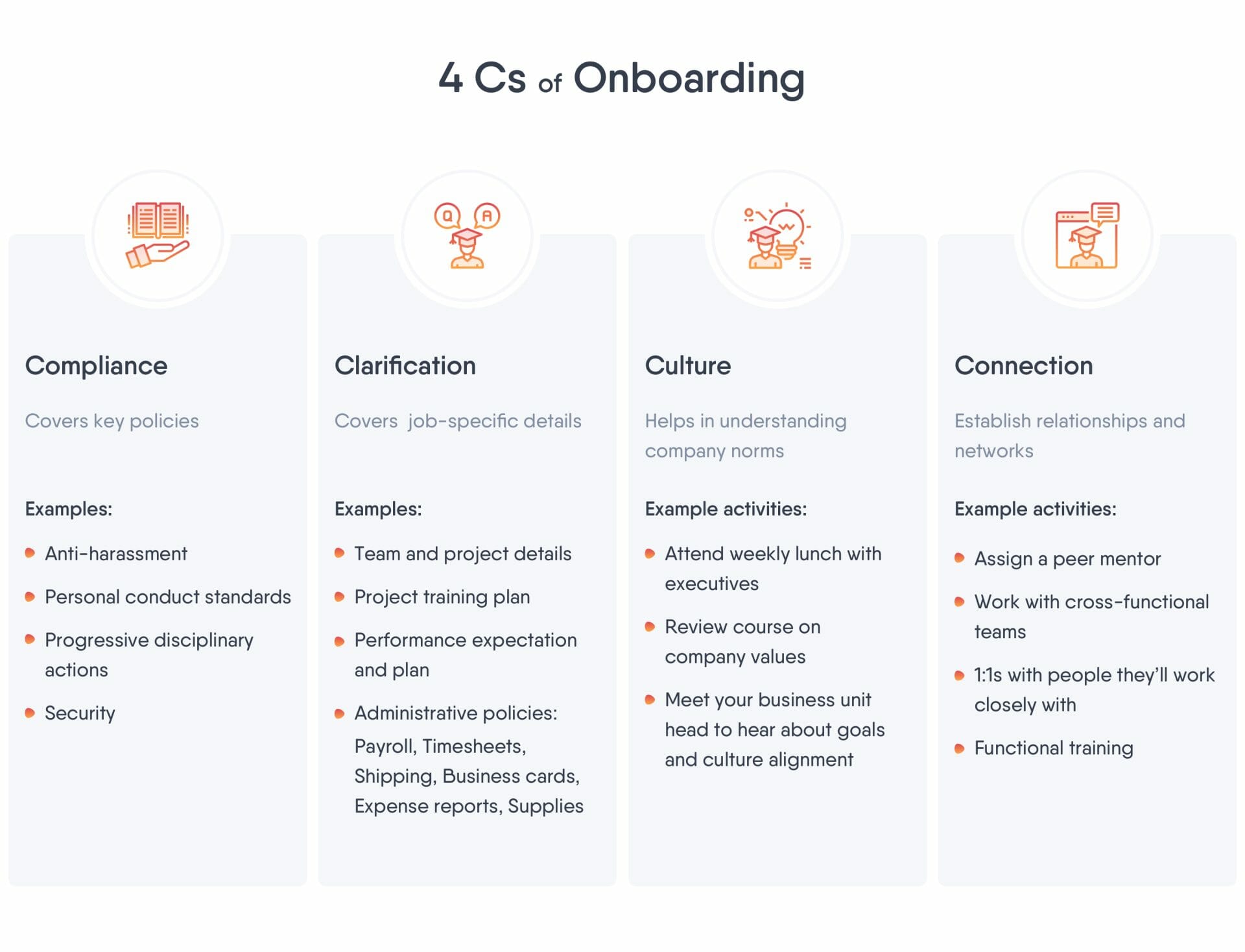 For many new hires, onboarding training starts out enthusiastically with the very best intentions, but this momentum slows down after a few weeks. This is because new employees are usually caught up in the daily grind of work after a while and may not have the same level of interest as before. 
To ensure your organization doesn't get caught by this pitfall, here are a few best practices to help your new hires to flourish.
Plan your onboarding
1. Do your homework
The first place to start would be to understand how onboarding is done at the moment. Understand the areas of the program employees liked or disliked and why. 
E-learning authoring tools, such as Easygenerator, incorporate net promoter scoring (NPS) into courses, allowing learners to rate and provide valuable insight into the effectiveness of your course.
2. Ask the stakeholders
Speak to employees who went through the onboarding training recently on what they had expected from such a program. Ascertain their fears and insecurities about starting out in a new company. Speak to HR or the L&D Manager to understand the objectives of the program from a business perspective.
Some onboarding best practices would be to structure an onboarding program that:
Gives new employees a sense of comfort and a promising first impression of the organization

Lays out the organization's culture, values, and brand

Details the expectations of an employee, e.g., regulations and compliance

Describes the fundamental things an employee would need to know, such as the dress code, processes for leave application and where the cafeteria is

Teaches them where they stand in the organization's structure

Shows them how valuable their role is to the organization's well-being and excites them about it
Here's a downloadable planning worksheet that will help you to design a tailored onboarding program for each of the 4 Cs: 


Download your onboarding planning worksheet
Design your onboarding
1. Personalize content, minimize repetitions and stagger the program
A good new hire training program teaches an employee what they need to know, and only what they need to know for their individual role. It doesn't drown them in information that is mostly unnecessary. 
Also consider if some information can be found on your organization's intranet or website, e.g. the company's HR policies or organization charts. This then doesn't need to be repeated in the training.
Onboarding best practices would allow new hires the freedom to leave and enter the course at times it suits them best.
2. Employee-generated onboarding
One of the best, and most likely untapped, resources are your existing employees. Not only are these the people who already know all about your organization, but they're the ones best placed to tell the story of why it's such an amazing place to work. Inspiring your employees to share their knowledge, and empowering them to create their own content not only personalizes the onboarding process but also lets your existing employees feel valued.
Deliver your onboarding
1. Start even before day one
Using e-learning tools, such as online pre-assessments, training modules, and tutorial videos, you can actually start educating potential employees before they even officially join the company. This saves precious time once an employee is hired, giving you a firm grasp of where they stand in terms of skills and knowledge on day one.
2. Provide easy signposting
All new hires will come with queries and small issues they need assistance with – this is only natural when starting in a new place. With this in mind, it's key to signpost them to the right resources to ensure these queries can be answered quickly and easily.
Providing an online 'library' of key learning nuggets and resources will empower your new hires to quickly find the information required for their day-to-day jobs. When providing digital content, ensure not to overwhelm the employee with everything under the sun, but rather offer targeted content with key headlines, bullet points and short pieces of information instead of a lengthy policy document. You can use a variety of formats to create short, focused and crisp content with the likes of videos, quick guides, and infographics – these nugget formats have the maximum impact. 
3. Get the most out of the first week
The first week is crucial for getting the new hire off on the right foot, but it's important not to overload them. Make the most out of it by using an e-learning path. This is a series of training modules that the new hire can work through at his or her own pace in a low-pressure, interactive learning environment. The modules should cover all the basic topics (IT, policies, company culture) that new hires can master on their own. 
4. Onboarding, on-demand
The content of your onboarding training program will only be as good as the delivery methods you use. Think about how your new hires access information in their everyday lives and try to reflect this in the delivery of your onboarding. This can include making sure the content is available on-demand and accessible through a range of devices.
The easier and more accessible the content, the more engaged your new hires will feel. Furthermore, using this type of shorter and more accessible e-learning will allow new hires to quickly utilize the knowledge in their roles.
5. Share stories
While some information might already be on the organization's website or intranet, current employees have a wealth of knowledge not necessarily available on your intranet.
Online onboarding training can also enable subject matter experts around the business to share their knowledge. This gives the new hire a more helpful in-depth insight into the organization, rather than a one-size-fits-all generic overview. Use stories or videos to demonstrate best practices or valuable lessons from such employees.
Onboarding training templates
There are two common execution models for your onboarding training program. Below we've provided you templates for both to help you roll out your onboarding.
30:60:90 Day Model
The 30:60:90 Day Model sets a clear roadmap for the new hires to inform them what is expected, stakeholders, dates, where they need to go in their first 90 days. Here's a sample breakdown of this model: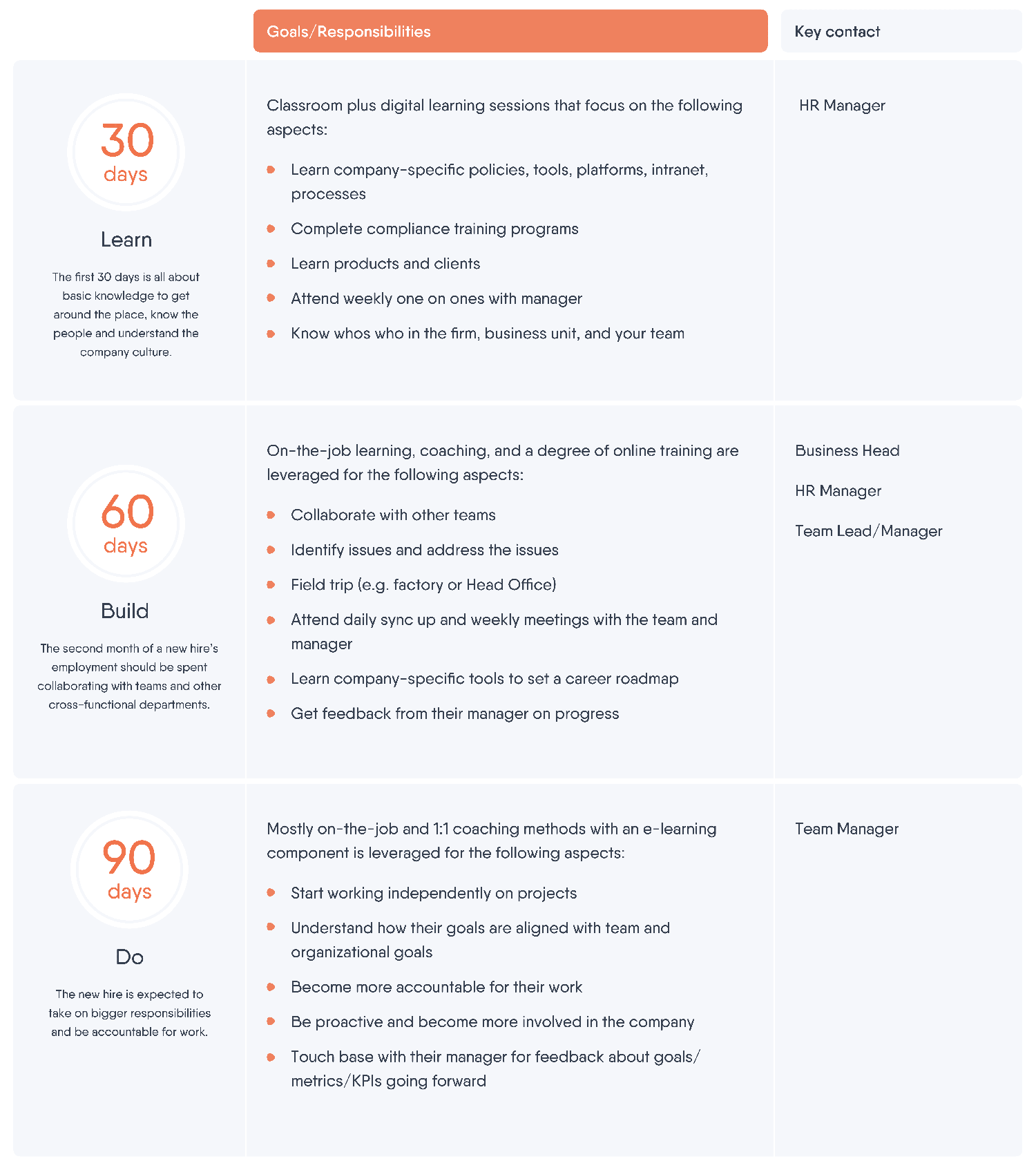 Download your 30:60:90 onboarding plan
52 Weeks Model
Few organizations believe that a new hire can be onboarded overnight or even with a month's intensive classroom training. Rather, they believe in spacing out the whole onboarding journey across 12 months (52 weeks) and allow the employees to learn in a slow and settled fashion. 
The first week is usually allocated for the must-haves and must-know information bits in a classroom setting. This is followed by a blend of digital learning activities with minimal disruption at work. Allowing them to onboard themselves at their own pace.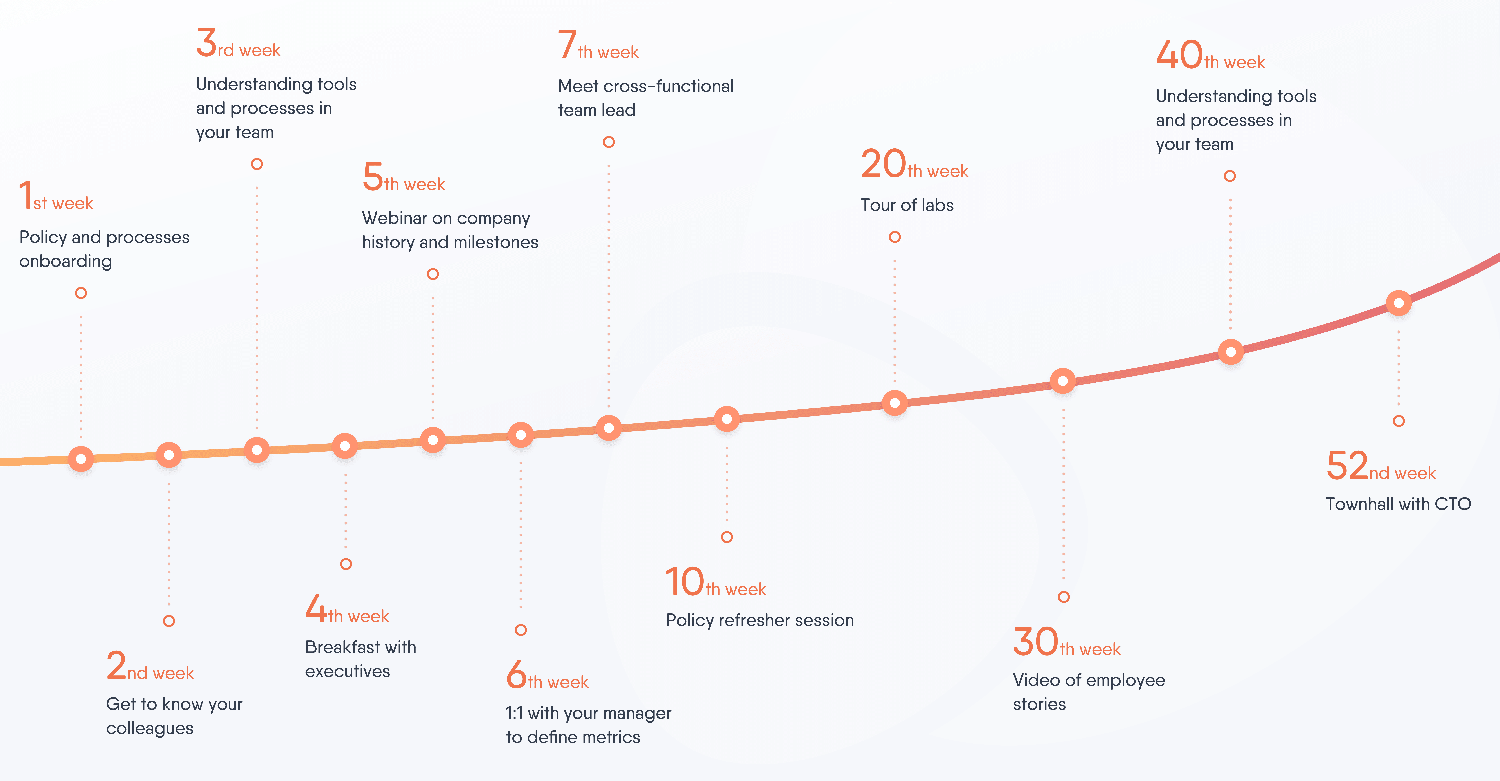 Download your 52-week onboarding plan
Improve your onboarding
1. Continuous improvement
Your onboarding program should never be viewed as a finished product. There is always room for improvement. One of the easiest ways to assess its success is to ask those that have most recently used it.
One great method for gaining course feedback is net promoter score (NPS). Simply add an NPS survey to the end of each course, so new hires can let you know if they found the course useful.
Feedback will not only facilitate continuous improvement, but the information gathered can inform future recruitment processes and assist with corporate priorities. Don't forget that successful engagement from day-one, will likely lead to happier, more productive employees in the long-term.
2. Look at the bigger picture
No new hire can simply be inducted into an organization in a few short days and just expected to succeed. The very best onboarding training programs will provide long-term support to new hires and ensure that the onboarding process naturally links to annual performance assessments and discussions.
This creates the crucial 'golden thread' that links an employee's current performance right back to when they initially joined an organization. Setting up new employees for early success will equip them to achieve throughout their whole time with your organization.
As mentioned above, onboarding entails 4 main components: Compliance, Clarification, Culture, and Connection. Easygenerator can easily help you build courses in each of these components: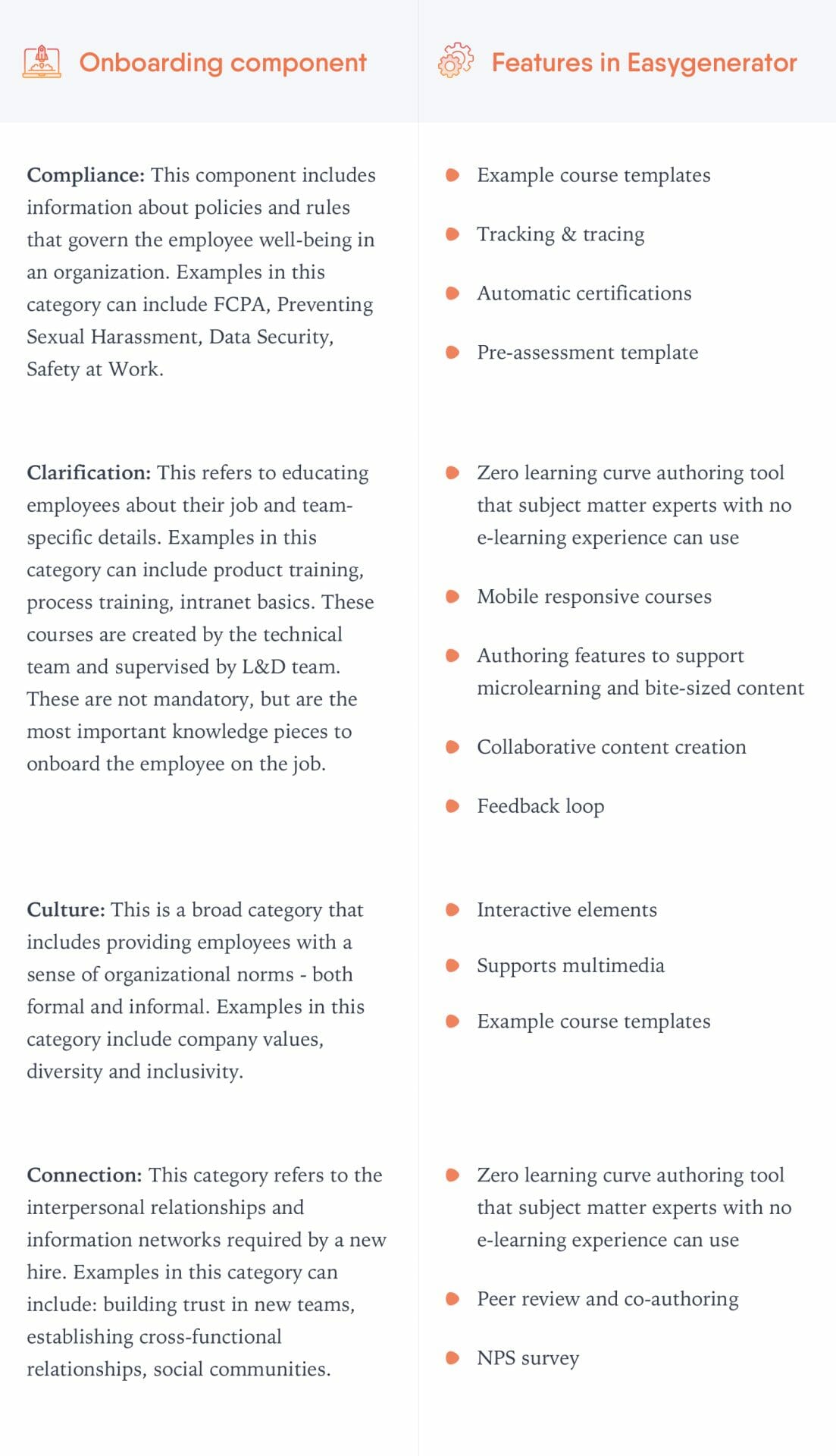 In addition, to help you kick start your onboarding training program in mere minutes, Easygenerator has developed the Onboarding Starter Pack with a selection of example onboarding courses, designed by our didactic experts, ready for you to start using.
And with that, you should be fully prepared to launch an engaging and effective onboarding training program!