The major British-Swedish multinational (bio)pharmaceutical company AstraZeneca has an extensive training team for its pharmaceutical sales reps. However, the company wanted to improve its approach to training for its Market Access account directors. For them, training must be more specialized and strategic. To realize that, AstraZeneca formed a new team: the Market Access training team, which is directed by Jenny Allen.

How to train 300 account directors?
Jenny and her new team were responsible for training for 300 AstraZeneca account directors spread out across the United States. But how do you train directors who live and work in different places, with different time zones? Jenny needed to be able to centralize training. She started looking for a simple-to-use tool that her team could use to author and share content. The tool also had to allow them to engage their learners and track their results.
A cloud based authoring solution
Jenny soon decided to adopt Easygenerator because it met all their needs, while also providing an excellent service experience that exceeded their expectations. Today, Jenny is particularly satisfied with the professional technical support that she and her team receive from Easygenerator. Apart from that, she loves the fact that she and her team can create, host, track, and report on all their e-learning activities without the need for an LMS or other integration.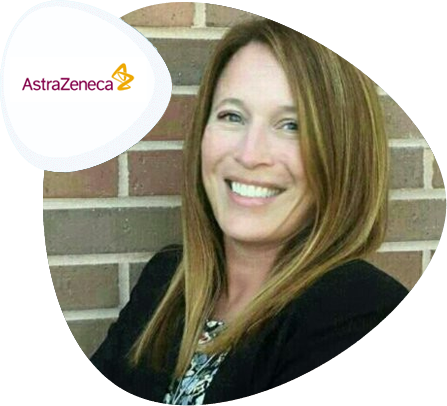 " The beauty of Easygenerator is the ease with which you can use it. "
,
100% tracking and $200,000 saved
With Easygenerator, Jenny and her team can centralize training, make engaging and interactive content, and get feedback from learners to improve their courses. The team has gone from zero trackings to 100% tracking over the past two years. With her small team, Jenny has managed to save AstraZeneca $200,000 on outsourcing costs in 2018 alone.
Read the full customer case
Fill in the form below to download the full story behind Astrazeneca's success.