Your Complete Guide to SCORM & xAPI
What is SCORM? What are the difference between its multiple versions. Do you really need it? A comprehensive guide by Kasper Spiro.
Try Easygenerator Unlimited
Are you new to e-learning and considering buying an authoring tool? Perhaps you're updating your software and need to know what new options there are? Whatever your situation, you'll be thinking about the best way to track the results of your learners. We know that all those terms and abbreviations can be overwhelming, but our complete guide to SCORM and xAPI will cut through the jargon.
SCORM (sharable content object reference model) is a standard in e-learning that tracks and traces the results of your learners in a Learning Management System (LMS). A SCORM-compliant course might typically track:
Course result (pass/failure)
Correct or incorrect answers
Viewed pages
Length of page views
Time spent on a course
Score per learning objective
Easy Dictionary
Learning Management System. Often referred to as an LMS, this software is used to create and deliver learning content, track and assess results, and generally administer your e-learning. You can learn more about LMSs in our guide.
SCORM allows content to be moved from one system to another. If a course is SCORM-compliant, it's as simple as downloading your course (and all its elements) and uploading it as a SCORM package (we'll cover what SCORM-compliant means in the next section).
A good way to understand it is to think of the SCORM package as a DVD and your LMS as your DVD player.
It's a 'plug-and-play' solution that allows L&D (learning and development) to distribute e-learning to their workforce on mass. It also allows content, that was often expensive to create, to be sold.
There are two versions of SCORM, SCORM 1.2 and SCORM 2004. The latest version, SCORM 2004, has more functionality relating to:
Read-write interactions that improve reporting.
'Status separation' to improve individual learner insights.
Options for learners to save their results mid-course and continue at a later time.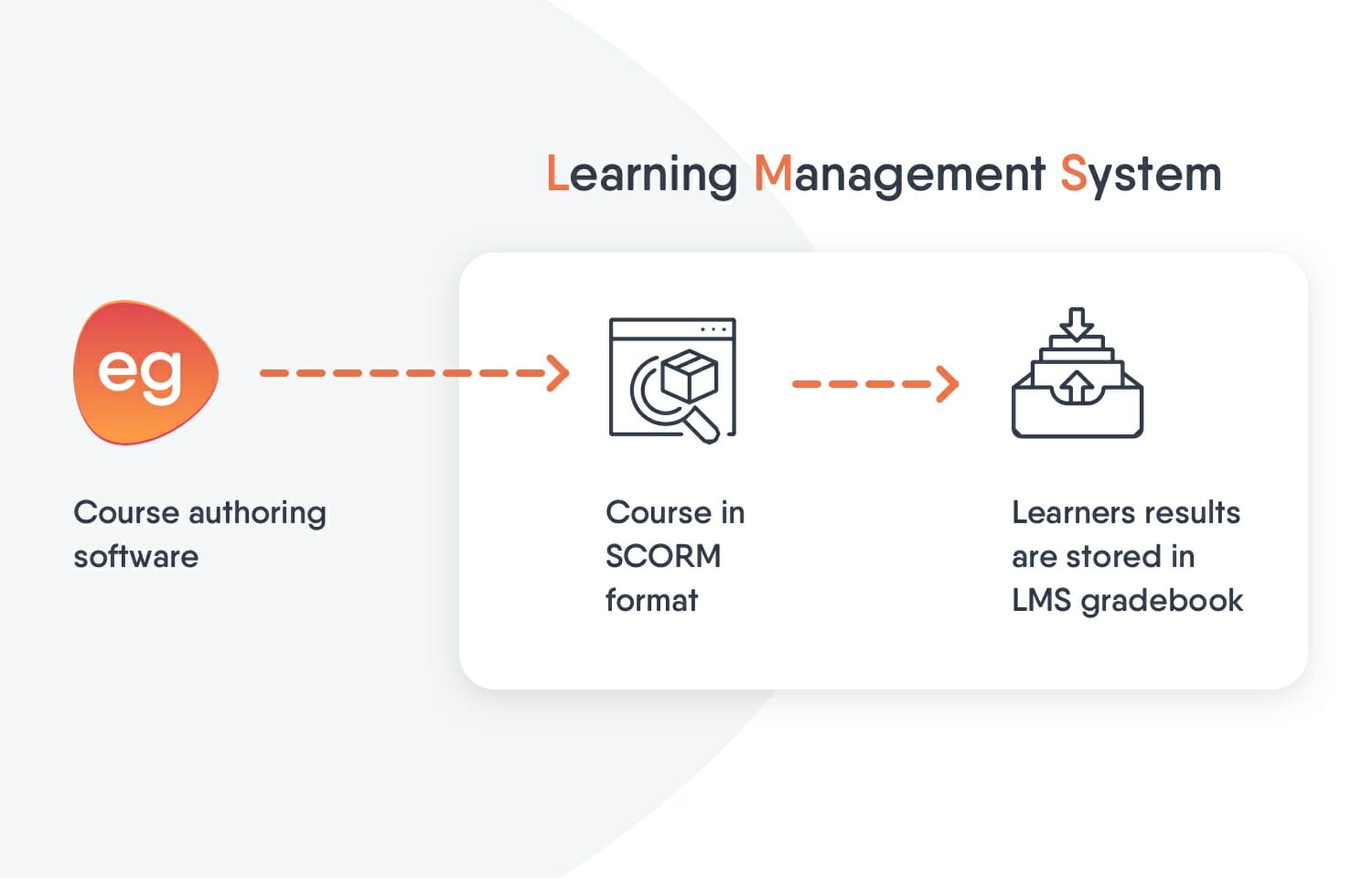 A course is SCORM-compliant when it meets the requirements of the ADL standard. Once met, content can be shared. Whilst SCORM has a compulsory element to meet compliance – the results reporting – there are optional elements that can be added. This includes storage of incomplete results and results per learning objective.
If you're considering using SCORM, it's important to understand which elements you need and choose an authoring tool or LMS that supports these.
A typical process for SCORM-compliant courses would be:
Course created in an authoring tool (or in an LMS)
Course published as a SCORM package and uploaded into an LMS
Learners are added to the course
LMS tracks and stores the learners' results
Report on these results
The most recent version of SCORM dates all the way back to 2004 and, clearly, it's now a little dated. Enter xAPI (experience application programming interface) formally known as Tin Can.
Rather than simply recording formal learning results, xAPI is a way for different software to exchange information and capture the entire learning journey. Think about it this way: when you are performing a task for the first time, you will learn, and this is something real and tangible that isn't within the boundaries of an LMS. This is where xAPI changes everything.
Using xAPI, learning can take place outside of an LMS, whilst still being tracked and traced. This information is compiled in a Learning Record Store (LRS). This means xAPI solutions can take advantage of new learning trends, cloud-based solutions, and support mobile devices.
Easy Dictionary
Learning Record Store. A data storage system for learning records. It is essential to the xAPI process flow.
For intuitive and easy-to-use authoring tools xAPI can support simple and useful learning solutions. This includes assignments, videos, PDFs, and short guides, which can be accessed by the learner from any device, anywhere, anytime.
The big limitation of SCORM is the narrow scope to track and trace learners' results, as this has to take place within an LMS. This doesn't support modern 'always-on' learning where employees want to do their learning outside an LMS. Superior xAPI solutions can support this in a way that SCORM can't.
Yes, xAPI is better. It's compatible with contemporary e-learning trends and how we want to access information. It's important you choose an authoring tool that supports xAPI. This way, regardless of where content is published (a website, a blog, an app), the results can always be tracked and traced.
AICC (Aviation Industry Computer-Based Training Committee), dates back to the 1980s. It started as the aviation industry's specification for e-learning, before trickling into the e-learning mainstream. For its time, this was cutting edge. While it was disbanded in 2014, SCORM and xAPI specifications have continually improved on its standard. To learn more about AICC take a look at this blog post.
CMI5 (computer-managed instruction) is the new xAPI based standard. It uses the techniques and tracking capabilities of xAPI. But it adds default statements to track and trace in the formal e-learning manner of SCORM. Essentially re-creating SCORM based on xAPI. It bridges the gap between the LMS and the LRS by tracking learning results outside of an LMS. But, like SCORM, it is restricted to formal learning activities such as courses, quizzes, and exams. To learn more about CMI5, this blog post should do the job.
There are many potential problems if you're considering only using SCORM to support your e-learning. SCORM predates the era of the smartphone. It wasn't built for modern L&D. It tethers content to a traditional LMS, which limits its reach and ability to be effective in our 'always-on' world. Learners can't access content anywhere and at any time.
The big advantage of SCORM is that you can use an external authoring tool, so you don't have to create your courses in an LMS. So, your courses will not depend on your LMS. You can use them in any LMS.
If you just want to track and trace results, you don't even need SCORM (or xAPI). Some external authoring tools, Easygenerator included, allow you to publish your course on their servers and track results through the platform.
If you're looking for detailed reporting on the wider learning experience, you should look beyond SCORM. SCORM reporting can't provide the type of targeted and intelligent reporting that you have come to expect. Without these in-depth insights and the ability to focus on learner engagement, it's hard to use reporting to inform strategic development and drive continuous improvement.
As learning becomes digitized, xAPI is the reliable standard that has quickly filled the space once occupied by SCORM. Now you are able to capture huge volumes of data to connect learning with business outcomes.
For years, L&D and HR professionals struggled to define the real business value of learning and e-learning activities. But with xAPI, data can be used to support its impact. By pooling data, xAPI shows exactly where learning content is making an impact. Organizations can now use this to demonstrate real-life performance improvements.
Before xAPI, SCORM gave only a basic sense of how effective e-learning content had been. But, xAPI provides deeper tracking of learner behaviors. It shows learner engagement through mouse-clicks, comments and other on-screen actions. Course design can be tweaked and presented in the most effective way possible, and specific course choices can be assessed based on a realistic view of cost-effectiveness and ROI.
What's more, xAPI takes things a step further. It can track learners even when they're outside of the organization's network. Allowing every interaction to be transferred to the LRS. This opens up a whole new world of personalized learning, based on individual needs and preferences.