The top 4 e-learning authoring tools, a full comparison
Not sure which e-learning authoring tool is the right one for your organization? We've compared Easygenerator, iSpring, Articulate 360, Adobe Captivate to help you find out.
You are looking for an e-learning content authoring tool that will help you execute your learning strategy and realize your goals. But with the different sorts of e-learning content creation tools out there, it can be hard to discover what suits your organization's, project's, and learners' needs best. Should you get a complex solution with many possibilities or an easy-to-use tool without unnecessary bells and whistles? And in the case of the latter, what type of subscription is best? Worry no more. This e-learning authoring software comparison and tour through the best online training software landscape is here to help you out. You will find out the difference between the top e-learning content creation tools: Easygenerator, iSpring, Articulate 360, and Adobe Captivate. That knowledge will help you make the right decision.
Easygenerator at a glance
Let's first zoom in on our content authoring tool. Easygenerator is an e-learning authoring tool that focuses on ease of use. Anyone who creates online training with it should be able to do so in little time.
But Easygenerator isn't just here to keep the threshold low and give L&D a great experience making learning content. The e-learning authoring tool allows subject-matter experts to create training too. We call that Employee-generated Learning, which is our home-grown approach to creating e-learning. It encourages employees to capture and share their knowledge. After all, they are business experts. Creating e-learning content this way is cheap, fast, and very scalable. It expands the capacity of L&D, enabling them to fulfill more learning needs than with any other approach. Also, it lets employees learn at the speed of business, keeps knowledge within the company, and helps distribute content across the organization efficiently.
It's not just the intuitive design that makes Easygenerator simple to use. The e-learning authoring tool's features play a significant part in that as well. Authors can create courses by dragging and dropping content, such as text, images, videos, Word files, PDFs, and up to ten question types. They can ask peers to leave feedback and comments within the tool when they need an extra pair of eyes. That means the days of scrolling through emails and chat messages endlessly are over, and co-working is easy as can be. Want someone to collaborate with you? Just turn them into co-creators, build a course together, and comment on each other's work within the tool.
When authors encounter challenges or have questions about the training they are making, they are not alone. An entire team of Customer Success Managers and Customer Support Managers is there to help. Via the chat functionality in the tool, email, or phone – it doesn't matter; they are standing by.
E-learning authoring tools: the comparison
Software that lets users produce e-learning content. That is the short definition of an e-learning authoring tool. You may be wondering: if Easygenerator, iSpring Suite, Articulate 360, and Adobe Captivate are all examples of training authoring software, then in what ways are they different and similar? These programs all make it to the list of best e-learning authoring tools of 2020 and all time, but their differences are huge. That has to do with their features, pricing, level of complexity, customer service, and more. Don't let that discourage you, though. The distinctions work in your favor. They make it easier to decide which e-learning authoring tool fits your company best.
Choose the right authoring tool
Our experts created the ultimate guide to help you select an authoring tool according to your organization's needs.
Easygenerator
Easygenerator is made with the user in mind. And by that, we mean any user. It has a clean UI and is simple to use for anyone, even those with no experience creating e-learning. The tool's primary goal is to shift the responsibility of course creation from L&D to subject-matter experts. That way, L&D can fulfill more training needs and has more time to focus on strategic initiatives. Employees create courses on the go, and knowledge stays where it is: within the company. We call this home-grown method 'Employee-generated Learning'.
What makes producing training so easy with Easygenerator? The ready-to-use templates, drag-and-drop functionality, 10 question types, and the ability to stack and fill predesigned content blocks. Those features enable anyone to create courses focusing on the content, not on how the software works.
Collaborating with co-workers within the tool is crucial to leverage Easygenerator and Employee-generated Learning. Co-authors and reviewers can simply add comments and reply to each other within courses. That brings an end to working in multiple versions and communicating and giving feedback through various tools. Our collaboration features make our tool unique, and that makes us proud.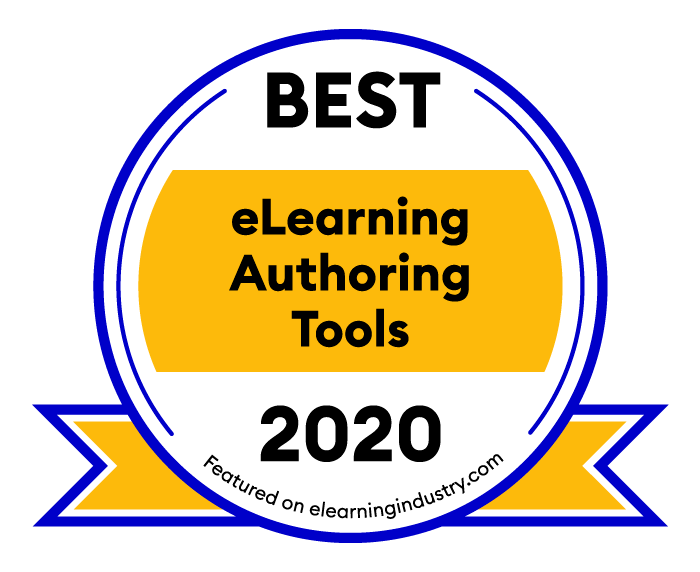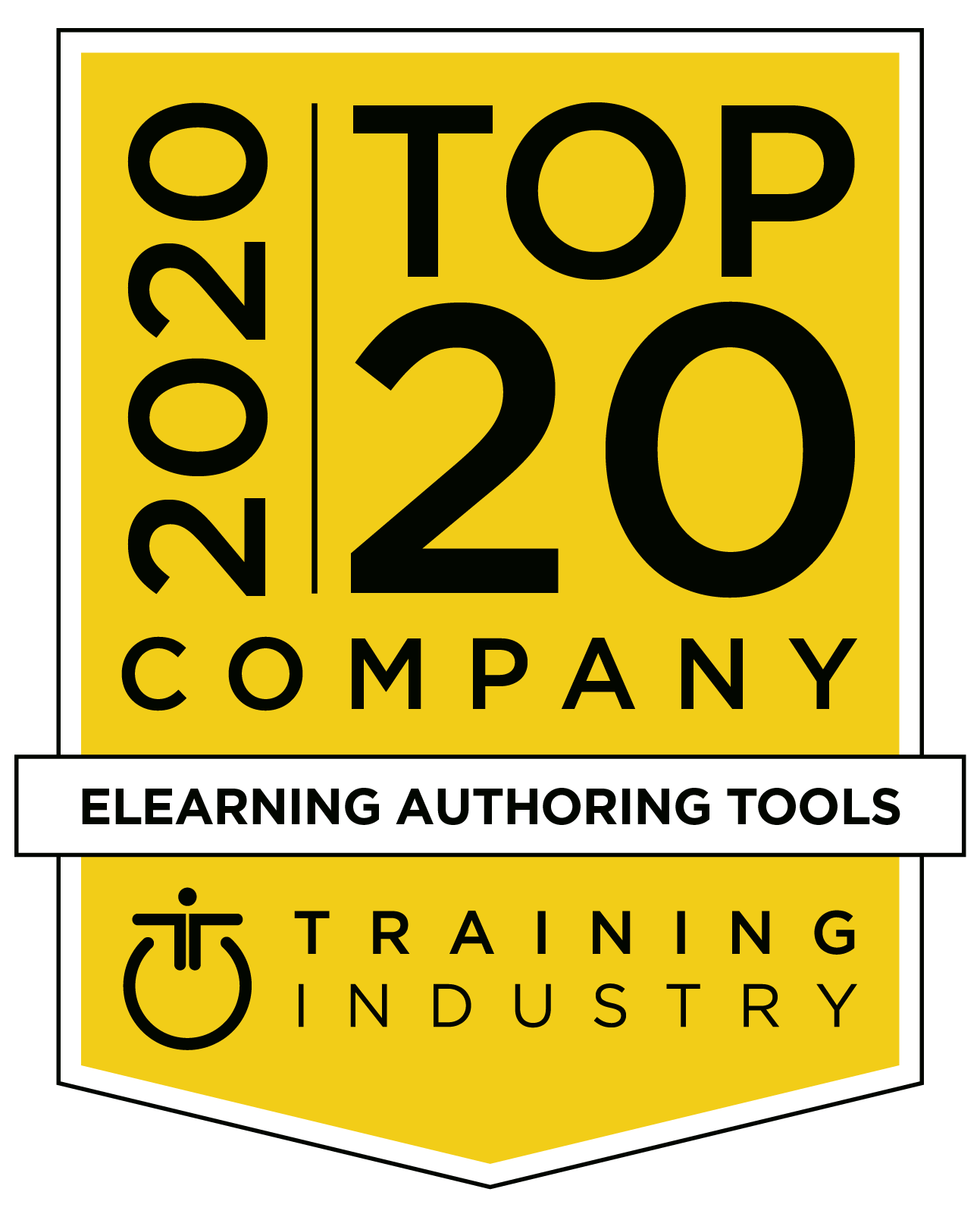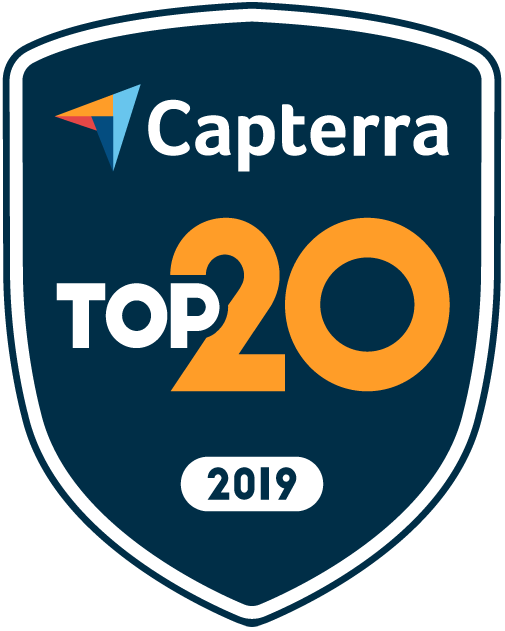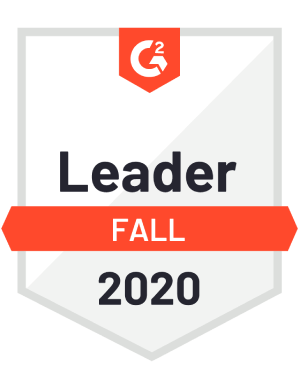 Create courses in no time
When instructional designers create training, they interview employees to use their knowledge. Employees review these courses to see if everything is correct. This process can take up to hundreds of hours to create one hour of e-learning. The Employee-generated Learning approach speeds this up significantly because subject-matter experts are the ones who create learning content.
Spend less money
To create a course with the Employee-generated Learning approach, you will only need a few subject-matter experts and iterations before a course is ready to be published. And with the ability to create courses quickly and at a lower cost, you're able to scale your learning too.
Keep courses up to date
Letting employees create e-learning doesn't only speed up the production of training. It also makes maintenance much faster. Since subject-matter experts own learning content creation, they can maintain their courses whenever they need to.
Read more about Employee-generated Learning →
Fulfill all learning needs
In a more traditional setup, L&D draws from employees' knowledge to create training. L&D interviews employees and employees need to review training until it is done. This is a cumbersome way of working that costs so much time that L&D can't fulfill all learning needs. With Employee-generated Learning and Easygenerator, they can. That's because employees create and maintain training much faster. A positive side-effect: L&D has more time to focus on strategic initiatives.
iSpring Suite
iSpring Solutions has two products: iSpring Suite, their PowerPoint-based toolkit, and iSpring Learn, their LMS (Learning Management System). The toolkit is a handy plugin that lets you add authoring features to your PowerPoint presentation. For example, you can create courses, quizzes, role-plays, and video lessons within your presentation. If you know your way around PowerPoint and want to make your presentations more elaborate, this plugin is excellent.
Is it your goal to create effective and engaging online training? PowerPoint won't do the trick. It is a great tool to create a one-sided presentation, but that's not how you engage learners. For that, you need to create interactive courses and offer a degree of learner autonomy. That encourages learners to take an active role and acquire knowledge at their own pace. Quiz questions, microlearning content, and instant feedback supplied automatically in response to a learner's actions are examples of effective, engaging training methods. If your goal is to let learners absorb information and grow knowledge, creating a PowerPoint presentation with iSpring's training authoring software is not the way to go.
Articulate 360
Articulate 360 is a combination of the articulate software in Storyline 360 and Rise 360, plus some other authoring apps. It is web-based, so you automatically create and store training online. Many different features come with the tool, as well as 6+ million course assets, such as templates, characters, photos, videos, icons, and more. It offers the ability to create live and on-demand online learning and has won various important awards.
There are downsides too. The tool focuses on a specific audience: instructional designers. How? That's thanks to the abundance of features the tool offers. They make the instructional design software complex and challenging to use for those without a background in technology. Our advice is only to adopt this training authoring software if you have experience creating online training. Are you looking for an e-learning program with a zero learning-curve? In that case, this software is not for you.
Adobe Captivate
If you have ever worked with Adobe Photoshop or Illustrator, you have an impression of Adobe's software and learning curve. The Adobe Captivate software is similar in UI and complexity to other Adobe tools. The e-learning program comes with many features. Image swap, multiscreen responsive e-learning authoring, and image and SVGs as buttons are just a few examples. Unfortunately, all these features make Captivate e-learning software intricate and challenging to use. In fact, the learning curve is so steep you need to study the authoring solution before you can use it.
Just like Articulate 360, the Captivate e-learning authoring tool is made with instructional designers in mind. They have plenty of experience creating online training and know their way well through software like Captivate. But if you are looking for a tool that is easy to use from day one, you should be looking elsewhere.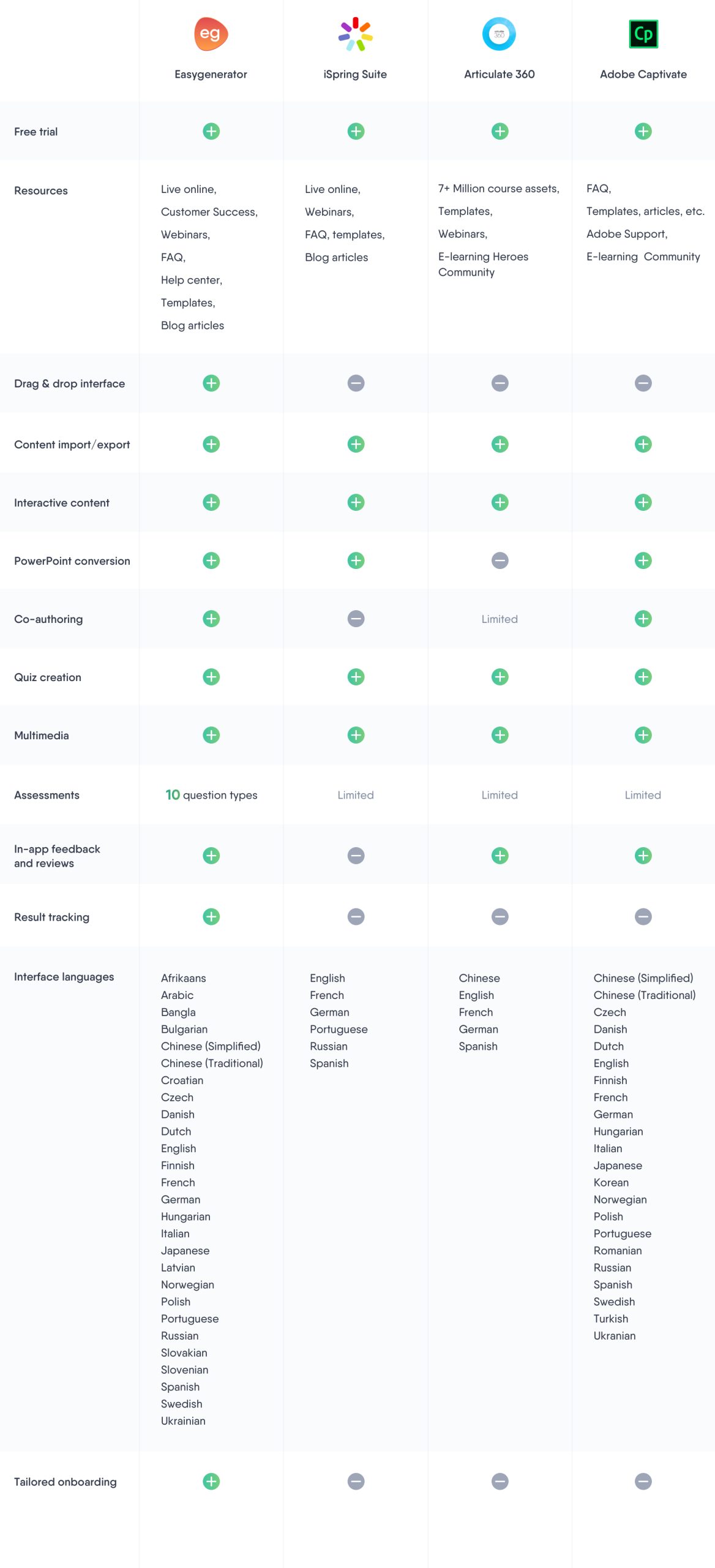 LMS and integrations, what is possible and what isn't?
LMS comes in all shapes and sizes. These systems store and organize your learning content in one place, where your learners can access it. The LMS also produces certificates and keeps track of learners' results so that administrators and learners have a clear overview of a learner's training level.
LMS vary from easy-to-use to elaborate and complex. Before choosing an LMS, consider your organization's and learners' needs, whether or not the LMS is compatible with your authoring tool, and if the LMS' complexity matches your experience.
Not all authoring tools come with an LMS. In most cases, you will have to get an LMS separately. Keep that in mind when you compare online training software.
Now, let's look at the list of different authoring tools and their integrations.
Easygenerator
Easygenerator combines the best of all worlds. It has an intuitive UI, inviting those new to e-learning to create online training in a comfortable setting. And Easygenerator's LMS is included in the tool and has simple features too. Our LMS is xAPI (Tin Can), SCORM 2004, and SCORM 1.2 compliant. All in all, it makes for the perfect first step. But if all of that sounds too complex for you, we can make it even easier: you can use our own LMS. That means you can create training and publish it in your environment within the tool. Thanks to these possibilities, the e-learning world is your oyster.
With our user-friendly and LMS-friendly tool, Easygenerator is the best e-learning authoring tool to use a bottom-up approach with. It enables employees to capture their knowledge and develop and share training with their peers.
iSpring Suite
The iSpring quiz maker is a PowerPoint plugin that lets you make more elaborate presentations. You can use it to create courses, quizzes, role-plays, and video lessons. Once you have finished your presentation, you can save it as a SCORM file and upload it to your LMS.
iSpring Solutions also offers its own LMS: iSpring Learn. You can use it to upload your PPT, SCORM, and other files, like video tutorials, audio tracks, Flash clips, and more. Thanks to iSpring Learn's API, you can integrate the training authoring software to many other tools you have, such as an HR system, corporate portal, or ERP system.
Articulate 360
Articulate 360 is a combination of Articulate Storyline 360, Articulate Rise 360, and a few other apps. The software comes with many features and possibilities. But there is a downside: it makes the tool intricate.
Articulate 360 supports SCORM 1.2, SCORM 2004, and xAPI (Tin Can API) standards. That means you are flexible in distributing e-learning courses and tracking learners' activity. Do know that the complexity of Articulate e-learning software also goes for its LMS features. It's the most advanced out of the box, but it's mostly suited for instructional designers with a lot of experience working with training authoring software.
Adobe Captivate
Adobe Captivate is quite similar to other Adobe software. The tool gives you access to a lot of content creation possibilities but is so complex that you need a lot of (technical) experience to work with it. If you are selecting authoring software for the first time, you might be more comfortable working with more intuitive online course creation software. LMS-wise, Adobe Captivate gives a lot of freedom. Adobe Captivate's software supports SCORM 1.2, SCORM 2004, and xAPI (Tin Can API) standards.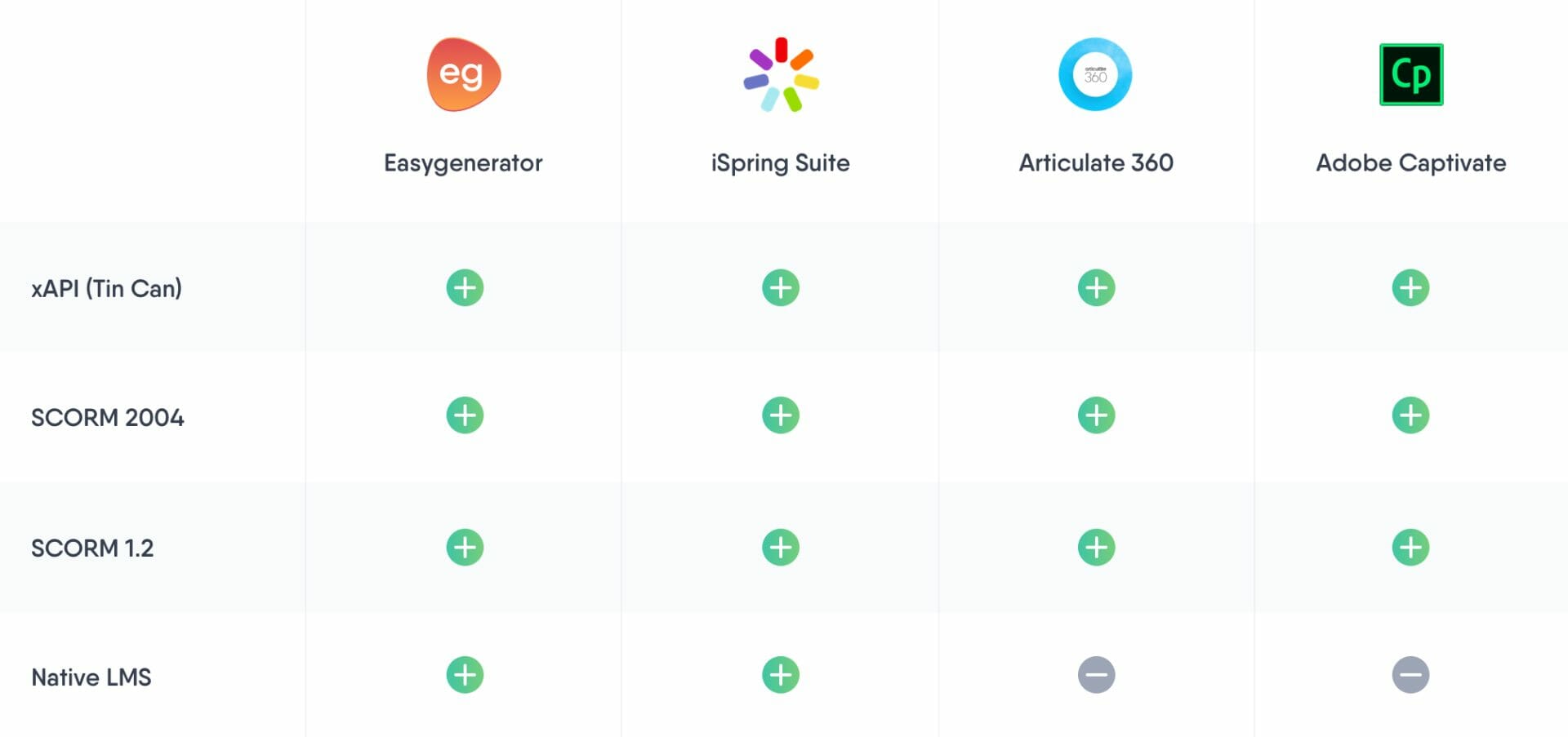 Which software creates the highest quality training?
When choosing the best e-learning authoring software for your organization, quality is an important aspect to investigate. When we talk about e-learning authoring tool quality, we look at scalability, branding options, and didactics: how the content is displayed. The more possibilities a tool has, the more diverse you can make your training. And the more complex the software is.
Easygenerator
Compared to other easy-to-use authoring tools, Easygenerator opens up a world of possibilities. We offer all the functionalities you need without making the tool complex or confusing. That makes Easygenerator a robust tool that organizations of all sizes use.
Our e-learning authoring software is famous because of its drag-and-drop feature. You can add multimedia, up to 10 types of questions, text, and more content, simply by dragging it and dropping it in the right place. You can change colors, fonts, buttons, backgrounds, and more. Because the content blocks are predesigned, training will always look clean and organized, making information easy to absorb.
iSpring Suite
As iSpring Suite is a PowerPoint plugin, you can expect PowerPoint-like quality. It's possible to design training with the look and feel, colors, and fonts you want, but there are limitations. Gamification isn't possible, and neither is branding. Options for displaying information are also confined, as you have to make do with what PowerPoint offers in terms of fonts, font sizes, and colors. Your courses are not automatically responsive. Before you start creating a presentation, you have to decide about resolution. Whenever you want to change to a different resolution, you will have to make changes to your design.
Pick iSpring Suite if you want to make presentations with basic questions, quizzes, and possibilities of adding videos, for example. If it's your goal to make training, we advise using a different tool.
Articulate 360
Articulate 360's software offers a significant number of features and possibilities. Articulate software makes it possible to produce your own e-learning game, for example. You can create interactive content with buttons, slide layers, hotspots, and more. Many things are customizable when it comes to branding, too: fonts, colors, buttons, the front image, sidebar, labels, and more.
These are just a couple of examples. Do you feel like you want to try out this tool right now and make a completely custom course? Admittedly, it does sound great. Just keep in mind that bells and whistles make a tool complex. If you have experience using instructional design software, don't hesitate to use Articulate 360. But if you don't, try a more accessible tool first. Once the creation of e-learning is more familiar, you can always get a more advanced e-learning authoring tool.
Adobe Captivate
Looking for a tool that allows you to customize everything about your training? Adobe Captivate might be an interesting e-learning development tool for you. You can make courses look precisely how you want them to, thanks to all the features you can use. It lets you automate many things, like replacing fonts, adding question slides, adding images or buttons, and more. As with the other possibilities the course authoring software brings, the vast array of options makes the software difficult to use.
Differences in customer support
Looking at our table, you might think that Adobe Captivate, Articulate 360, iSpring Suite, and Easygenerator are quite similar when it comes to customer support. A closer look at the details will show you that there are many defining differences in the support that comes with these tools.
Easygenerator
Easygenerator is well-known for its customer support. On our website, we offer tons of articles about how to use our tool to create training and strengthen L&D. Of course, it's possible to get in touch with us via our website. Also, you can always talk to representatives with an instructional design background via our chat functionality.
Apart from that, our Customer Success Managers and Customer Support Managers give customers a lot of attention. You can email and phone them or chat with them within our tool. Customers can get in touch with a Customer Success Manager live 19 hours a day, 5 days of the week. We don't want to be biased, but we can honestly say that customers have praised us for our support and dedication!
For new customers, we have a personalized onboarding period ready. A dedicated Customer Success Manager will answer all questions and give a demonstration to new authors. This period is tailored to your needs so you can make the most out of our e-learning authoring tool.
iSpring Suite
iSpring, too, offers support in the form of how-to's, video tutorials, FAQ, documents, and a community forum. If you want to get in touch with one of their experts and are on the iSpring Suite Max plan, you can email, call, or chat with agents 24/7.
Articulate 360
The type of support you get from Articulate depends on your plan. Customers with a Teams subscription or Platinum Membership Plan can get help through live chat 24 hours a day Monday through Friday.
But that's not all. The power of Articulate 360 lies in its community of instructional designers that help each other out online. E-learning Heroes is a platform filled with blogs and downloads that help you create e-learning. There is also a place for discussion about any topic: new features, how to use the tool, and more.
Adobe Captivate
Adobe Captivate customers get support in the form of guides, tutorials, and FAQs. Adobe also has an on-site platform where you can read blog articles and information about new features, events, and news. In the Adobe Support Community, you can ask all sorts of answers about Captivate. Need support from an employee? You can send an email, open a ticket, phone, or log in to chat with an agent.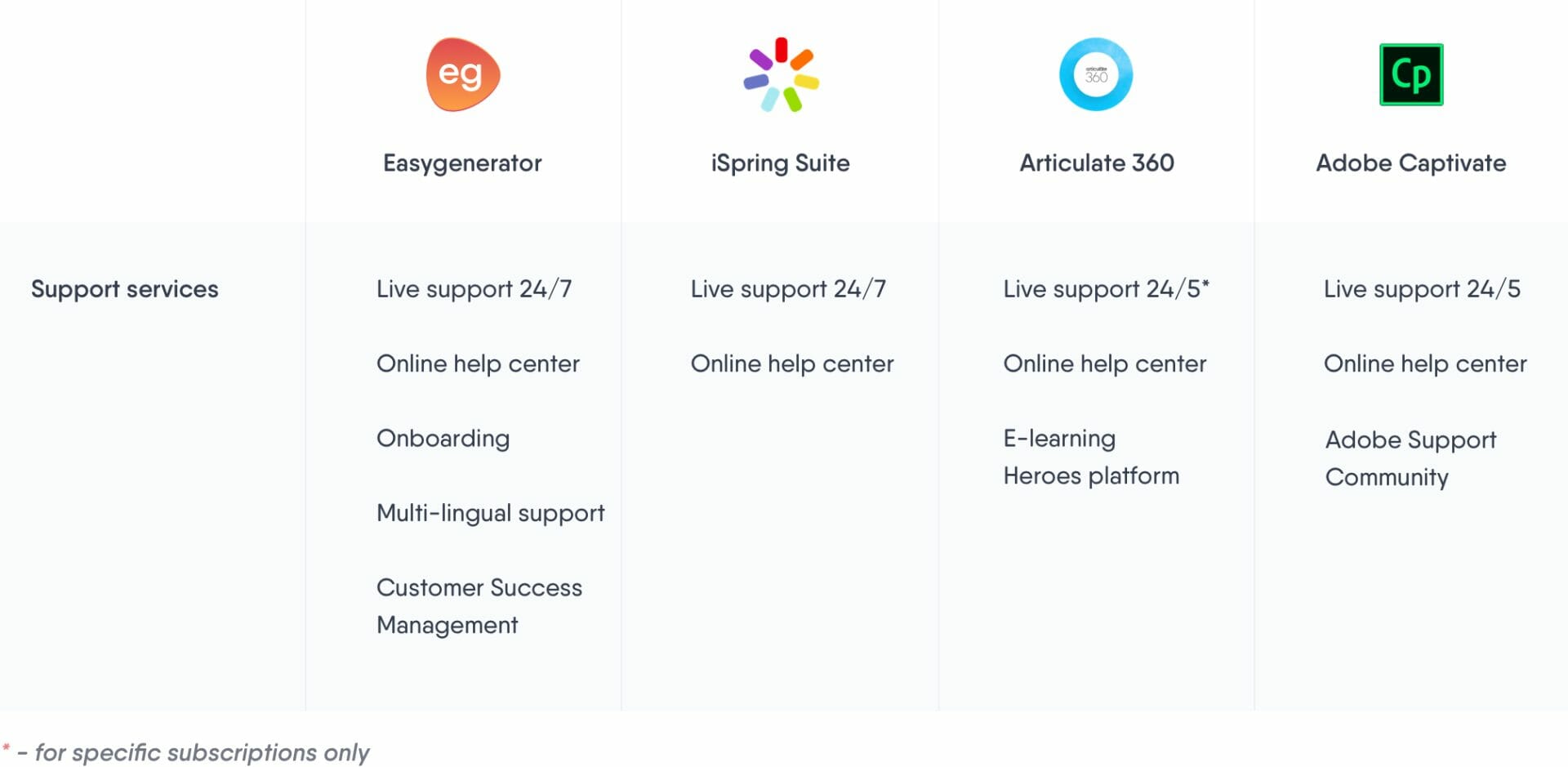 Pricing, plans, and partnerships
Each of the tools in this article offers different plans for different prices. When looking at a cost comparison of e-learning authoring software, it's essential to determine what is included. How many authors can create training, how many features can they use, what kind of support do you get, and so on. All of these things will affect your experience with the tool, as well as your projects.
Easygenerator
With each Easygenerator plan, you pay per author per year. That is the most cost-effective pricing. We have three plans. The Pro plan is $1188 a year and includes 1 author, 15 courses, and 250 learners. Our Team plan is $5940 a year and lets you work with 5 authors, unlimited courses, and unlimited learners. Do you have more authors? In that case, you can get our Enterprise plan, where everything is tailored to your needs. All our plans include our LMS.
iSpring Suite
iSpring lets you pay per author. You can choose from two plans: iSpring Suite, which is $770USD per author/year. Or iSpring Suite Max, which costs $970USD per author/year and includes a lot more. You get access to a content library with 68,000+ templates and characters for faster course creation. You also get access to iSpring Space, where you can collaborate on courses with co-workers. iSpring Suite Max includes support 24/7; you can contact employees via phone, mail, or chat. Neither iSpring Suite nor iSpring Suite Max includes the LMS, iSpring Learn.
Articulate 360
Articulate 360 offers plans for companies, freelancers, and academic institutions. Each plan gives access to specific features; all plans show an annual price paid per author.
Adobe Captivate
The plans and pricing of Adobe Captivate are different from the other tools. You either get a subscription and pay monthly or purchase the program for a fixed price for two years. Bear in mind that this excludes Adobes own LMS, Adobe Captivate Prime, which is $4 per learner per month for an annual subscription.
The takeaway
Feel like you need to digest everything you've just read in this e-learning software comparison? We understand. Really, it all boils down to this: before you select an authoring tool, decide what your organization's and learners' needs and goals are. That is crucial as the e-learning authoring solution you pick will help you to strengthen your projects.
Consider the amount of experience you and your team have creating e-learning. Have you been creating training for years? A more complex tool might be an excellent option for you. Are speed and ease of course development more important? Get an easy-to-use tool with intuitive UI and no bells and whistles.
Ensure you know what LMS you will use and if it is compatible with your choice's authoring tool. Not all e-learning authoring tool subscriptions include an LMS. Investigate that first, or you may have to make additional, unforeseen costs.
The same goes for the support that comes with the e-learning authoring tool you choose. Most of the beginner's software provides live support. More complex programs don't always offer that, so you will be on your own. On the other hand, tools like Adobe Captivate and Articulate 360 have great communities where you can share and obtain knowledge.
Always mind the pricing of subscriptions. Find out if you will pay per user or author. Also, check what is included in your subscription in terms of support, LMS, and features.
Many different authoring tools out there will help you fulfill various needs and reach your goals. Find out what suits you best, get a free trial for a few weeks, and then make a decision.