What is blended learning? Read our free guide
Everything you need to know to create your blended learning program.
Before we start, which of the following do you think are true of blended learning?
Blended learning is achieved through a single platform or learning model
Blended learning is simply adding digital content to classroom learning
Blended learning can happen in a single day or instance
You plan your tools/technologies before considering your learners
You need extraordinary instructional design skills to create a blended solution
Answer: NONE of the above
Whether you answered right or not, we'll answer any question you have about blended learning. What is blended learning and how will it help your organization? By the end of this article, you'll have a clear understanding of the concept, including its benefits, challenges, best practices, and even some recommended e-learning tools to help you get started. 
Blended learning is a method that combines traditional face-to-face teaching and digital training, allowing it to meet your organization's diverse learning needs. Because blended learning means combining different teaching styles, it can be the perfect solution when it comes to training and upskilling.
For example, a typical blended learning solution might look like this: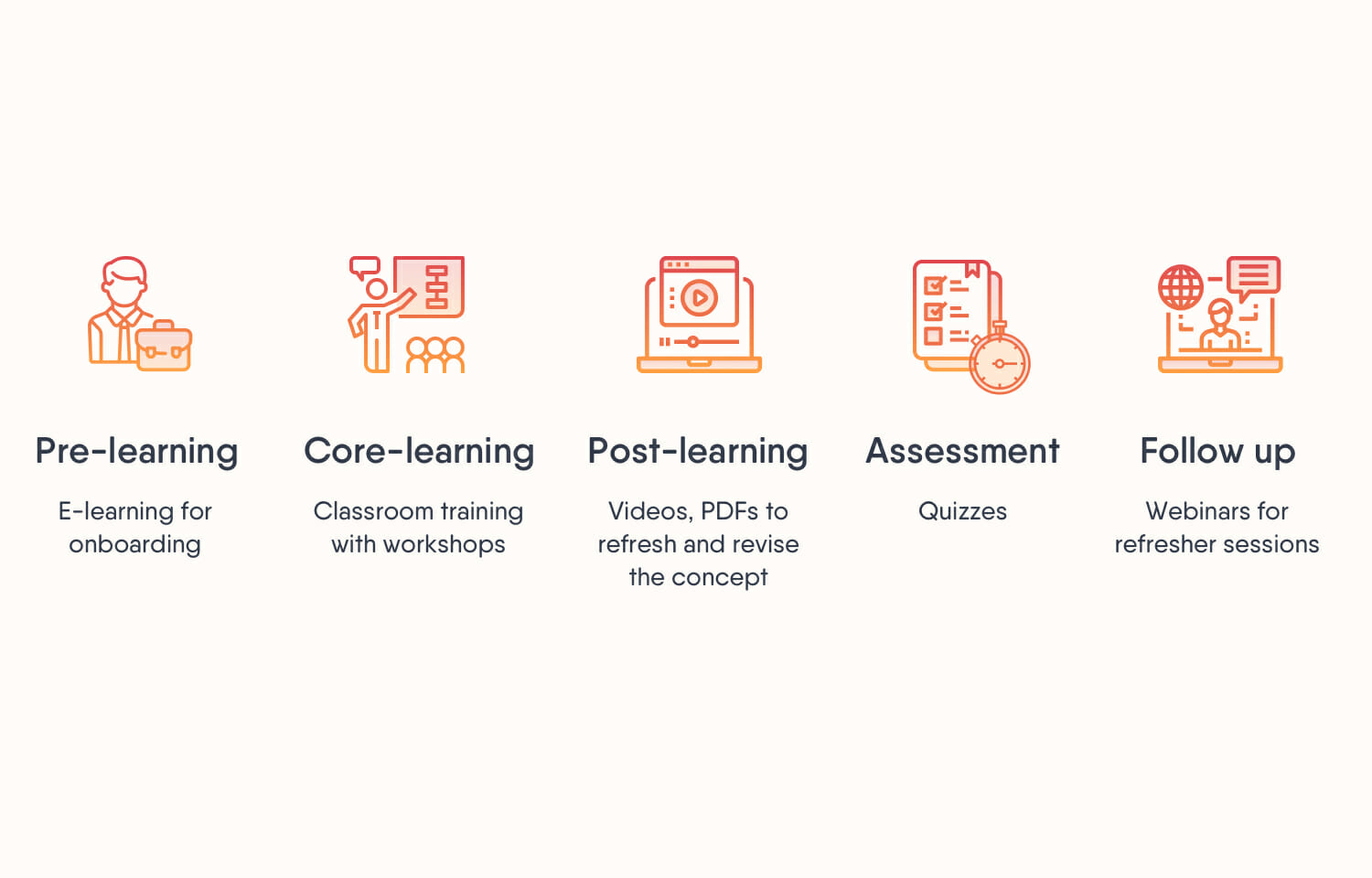 So, what is a blended learning approach? Here are five main components to keep in mind:
Live events
These are instructor-led events where all learners are participating in a learning session at the same time, also known as synchronous learning. A live event might take place in a classroom, for instance.
Online content
Internet-based resources allow the learner to access the training on their own and at their own pace, also known as asynchronous learning.
Collaboration
Collaborative environments like email threads, forums and chats allow your learners to engage with each other and even practice communicating the new ideas they've picked up.
Assessment
Checking your learners' level of understanding can be a valuable way to determine what follow-up tasks they might need. Pre-assessments can help you understand what prior knowledge they bring in, while post-assessments can reveal what they took away from a course.
Reference Materials
Providing materials for your learners to refer to along the day — like downloadable PDFs — can help enhance their overall learning retention.
Download our blended training template.
Now that you know the meaning of blended learning, it's time to think about how they can be combined into different types of blended learning models.
The following examples of blended learning models make up the majority of programs out there:
Rotation
The rotation blended learning model combines in-person and digital training, both of which can be delivered in various forms. This makes it a flexible learning model that can meet a wide range of learning styles.
There are four sub-models within the rotation learning model:
Station rotation
Like all blended learning models, the station rotation model consists of both face-to-face and digital learning. Your learners will rotate between different training sessions where at least one takes place online. For example, your learner might complete one module online and then participate in an in-person group activity. Learn how to rotate your classroom with the station rotation model.
Lab rotation
The lab rotation blended learning model also requires your learners to rotate between different sessions. However, unlike the station rotation model where your learners carry out all their training in one classroom, the lab rotation model requires them to eventually move to a computer lab where they will complete their digital training. Here, the instructor's role shifts from teaching to simply supervising the session as learners work on their own.
Flipped classroom
As its name suggests, the flipped classroom model flips the traditional learning model where teaching happens in a face-to-face setting and learners complete homework in their own time. The flipped classroom model allows learners to engage in the teaching material on their own before reconvening in a classroom setting to discuss what they've learned.
Individual rotation
The individual rotation model provides a personalized schedule for each learner to rotate between different stations. This means that each learner will have their own schedule to follow rather than move as a group. The schedules can either be created by an instructor or generated by a software, and they can include either online or in-person activities.
Flex model
The flex model focuses primarily on online learning although it incorporates in-person training too. As learners complete their online training individually, instructors are available for help on demand rather than as central teachers.
A la carte model
In the a la cart model of blended learning, learners engage in an online course in addition to their core curriculum (i.e. mandatory face-to-face training). They can take this additional course remotely at their own pace, which means they won't have to restrict their learning to pre-scheduled training sessions. Ultimately, this model gives learners ownership over how to supplement their face-to-face courses.
Enriched virtual model
In the enriched virtual model, learners mostly engage in online learning and work. They can then enrich their overall learning experience by requesting additional in-person training and support. This model not only gives learners the space to move at their own pace but also the benefit of added individual attention as needed.
Now that we've covered the different ways to implement blended learning, it's important to consider what kind of impact it can bring. Let's take a look at the advantages and disadvantages of blended learning:
Benefits of blended learning
Personalized experience
As described earlier, blended learning can provide your learners with a more personalized experience overall. For example, by allowing your learners to study part of their material in their own time, you spend less of your in-person interaction explaining concepts, and more of it providing one-on-one attention.
Fewer classroom sessions needed
As your learners train themselves using online modules, there may be less of a need for classroom sessions. You can then optimize these limited sessions to fill in any knowledge gaps and enhance their overall learning experience.
Keep your content up-to-date
For subjects where the training content needs to be frequently updated — like sales or product training — you can make use of digital tools that allow you to share the latest information in real time.
Follow up on training sessions with refreshers
Help your employees retain the knowledge they gained in a training session by following up with digital content to refresh their memories.
Learners have more ownership
Blended learning provides many opportunities for your learners to take ownership of their learning paths, whether it's by moving at their own pace, reaching out for an instructor's help as needed, or having continuous access to training resources.
Not limited to a physical location
The ability to train remotely means you've eliminated the need to find the perfect location for all your employees. This can be especially ideal if your teams are spread out across multiple locations.
Easily assess your learner's progress
Continuously assessing your learners progress can be time-consuming. Using a Learning Management System (LMS) or an authoring tool with track-and-trace features allows you to easily share quizzes and track your learners' progress online.
Challenges of blended learning
Dependency on technology
Because blended learning relies on the availability of digital technology, its feasibility may depend on your budget and on how tech-savvy your workforce is. Still, these issues are becoming less and less of a problem as technology continues getting cheaper and populations around the world grow more digitally literate.
Learners who aren't used to autonomy
While autonomy empowers your learners to work at their own pace, it can also hinder those who may be more used to rigid training structures. However, these challenges can be reduced by analyzing your employees' learning styles and tailoring the program to their needs.
Reduced face-to-face interaction
Many trainers find it easier to provide feedback in person than through online communication. For this reason, it's important to find a healthy balance between both the face-to-face and remote aspects of blended learning.
Create a blended learning program
Our experts put together the ultimate guide to help you set up a blended learning solution and launch a successful program. Get your free copy now.
We've seen one successful application of blended learning, but what are the specific do's and don'ts for designing your own program? Here are our blended learning best practices.
Find a rhythm between online and in-person learning
Some instructors make the mistake of simply adding some online content onto their existing face-to-face courses and hoping for the best. But you need to approach blended learning with a different mindset. Rather than viewing the digital aspect as an add-on, your program should integrate both online and in-person activities.
Have a clear goal in mind that you want to achieve and help the learner work through relevant activities and guidance.
Plan Learning Time
Plan when each piece of learning actually occurs within your blended classroom. For example, feedback or group work need in-class sessions. And don't forget the importance of having a structure that supports applying their knowledge.
Foster learner autonomy
Provide your learners with options so they can learn through the best methods for them. They are more likely to be engaged if they get to choose how they learn. Embrace technology to give learners choices beyond the constraints of the classroom. For instance, you can engage learners with content prior to the course. Make sure the content is relevant for them and they know how they can benefit from participating.
Power of Data
Don't underestimate the power of data. It can provide invaluable insight to help you re-evaluate and optimize your learning strategy.
In an Easygenerator webinar, Electrolux and LECOM revealed what makes their blended learning approach so successful, what challenges they overcame whilst implementing it, as well as which tools they use.
Here are three steps you can take to start implementing a blended learning program at your organization:
1. Know what your business demands
Identify the challenges your organization is facing, how a blended learning can help, and what the expected outcome is.
For example, imagine you need to implement a new training program to improve the performance of your sales team, but that you don't have the time or budget for it. A blended learning program could be the perfect solution because of its flexible structure, allowing you to combine different tools and learning models to suit your staff's needs. The expected outcome might be to equip the team with the necessary skills within the desired timeframe.
2. Know your learners
Before you can start designing a blended learning program, it's important to first understand your learners and their needs. Asking the following questions can help:
What prior knowledge do your learners have on the subject you're teaching?
What skills would they like to acquire?
What are their preferred devices? (i.e. mobile, desktop)
Where do they prefer learning? (i.e. at home, in a physical classroom
Asking these questions can help you better tailor your program to suit their unique learning styles.
3. Know what technology you need
A blended learning environment typically makes use of more than one tool. Determine what type of technology or facilities your program will need. Some possibilities include:
Classrooms for face-to-face learning
Social networking platforms to facilitate online discussion
Resources (i.e. PDFs, videos) for learners to study in their own time
Assessment tools (i.e. LMS, quiz software) to track your learners progress
Employee-generated learning tools like Easygenerator to create user-friendly courses, resources, and even to track your learners' progress
Following these three steps can help you obtain all the information you need to create a successful blended learning program that meets your learners' unique needs and helps your organization grow.
Here are a few applications to jump-start designing your blended learning program:
Blend with digital resources for pre-/post-classroom support:
This is a classic form of blended learning. You digitize a part of the training and provide it either before or as a follow-up to classroom sessions.
Blend with digital resources for a flipped classroom
In this case, you are blending as well as flipping the activity of classroom and digital learning.
General scenario:
Classroom: You watch/listen and learn in the classroom
Home/At work: You reflect and practice online or on paper
Flipped scenario:
Home/At work: You learn the subject online
Classroom: You reflect/practice in class, with your peers and trainer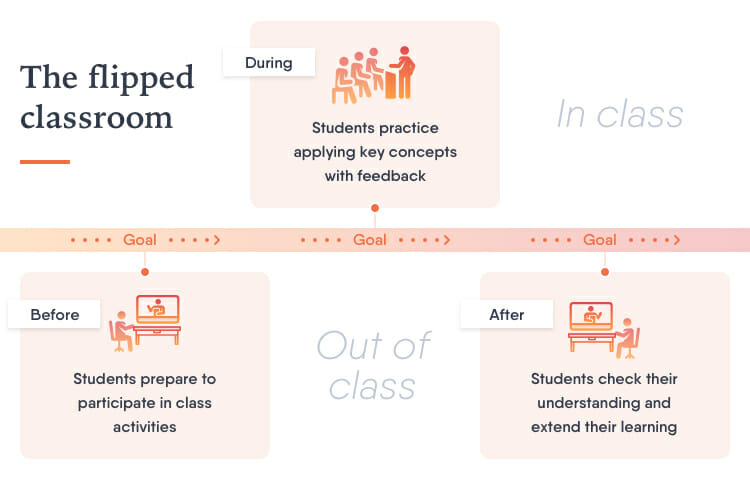 Blend with digital resources for performance support
You teach the core subject either in the classroom or e-learning programs. Then when it's time for learners to perform on the job you support them with digital information nuggets like job aids and resources.
To keep up with its competitive market, Electrolux needed to launch a scalable, cost-effective training program to meet its staff's growing training needs. So in 2019, the company turned to Easygenerator to launch its first-ever blended learning program.
Their main goals were to develop in-house content more quickly and affordably, and in return, free up resources and create training content that would be widely accessible across Europe. Instead of continuing its traditional face-to-face training approach, the company created more than 1000 user-friendly courses that remained digitally accessible year-round. Using Easygenerator, they could also easily translate their courses to more than 20 languages.
With Easygenerator, our trainers could use the tool straight away - no complications, no PowerPoint with voiceover (this is not engaging). The tool is easy and professional to use.
A blended learning approach can have a massive impact on your learners' knowledge engagement and retention. Ultimately, the key to a successful blended learning program is understanding both your learners' and your organization's needs.
By enhancing your learners' experience and optimizing your trainers' time, you'll be more likely to reach more learners and reduce your organization's time constraints and costs.
To learn how to implement blended learning, check out this ebook.