Convert PowerPoint to interactive e-learning and SCORM
Transform your PowerPoint presentation into interactive e-learning and SCORM packages with our PowerPoint converter.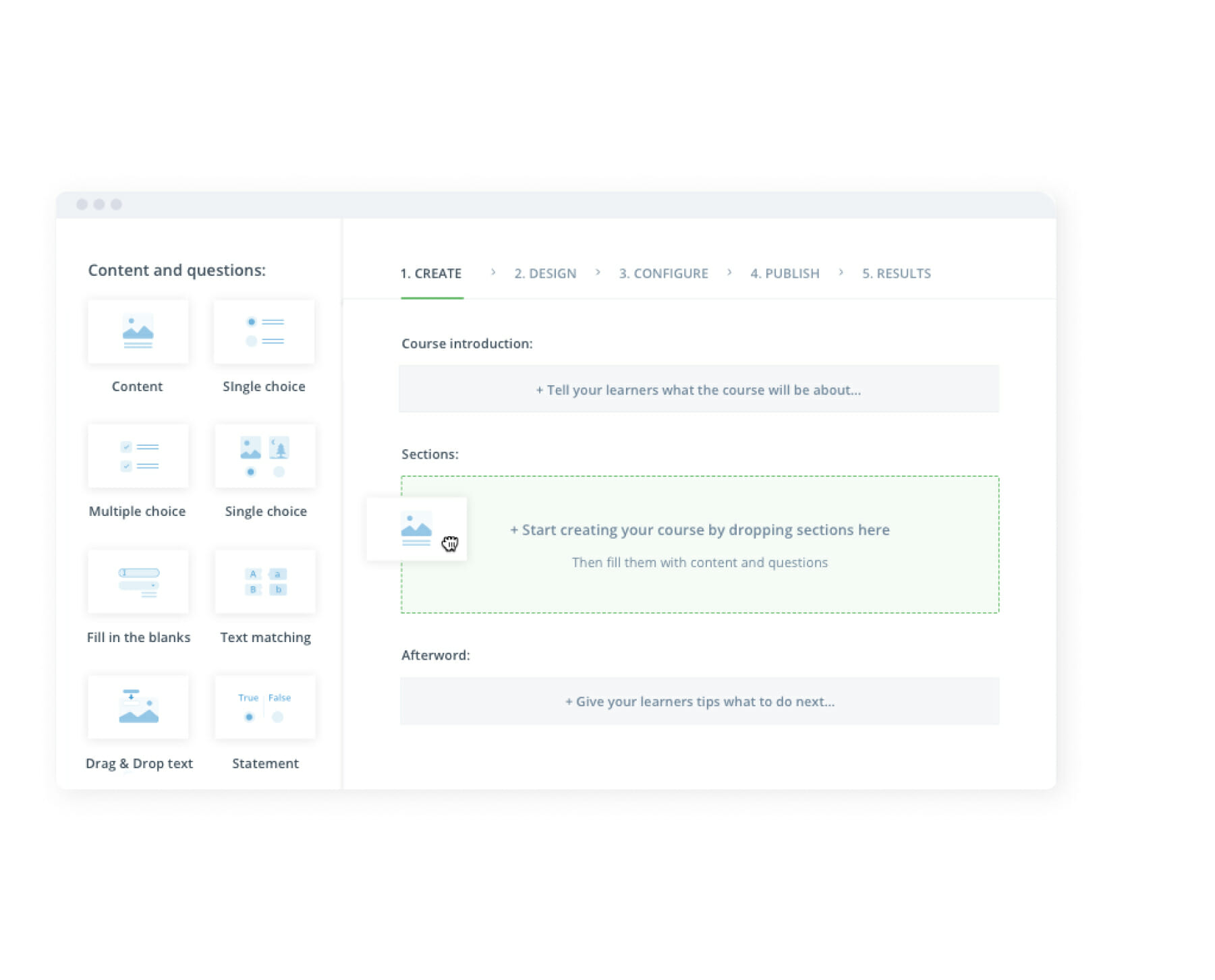 Customize content with interactivity
Once your PowerPoint is adapted to an e-learning format, use our intuitive editor to seamlessly add media, questions, and quizzes to your content in a few clicks.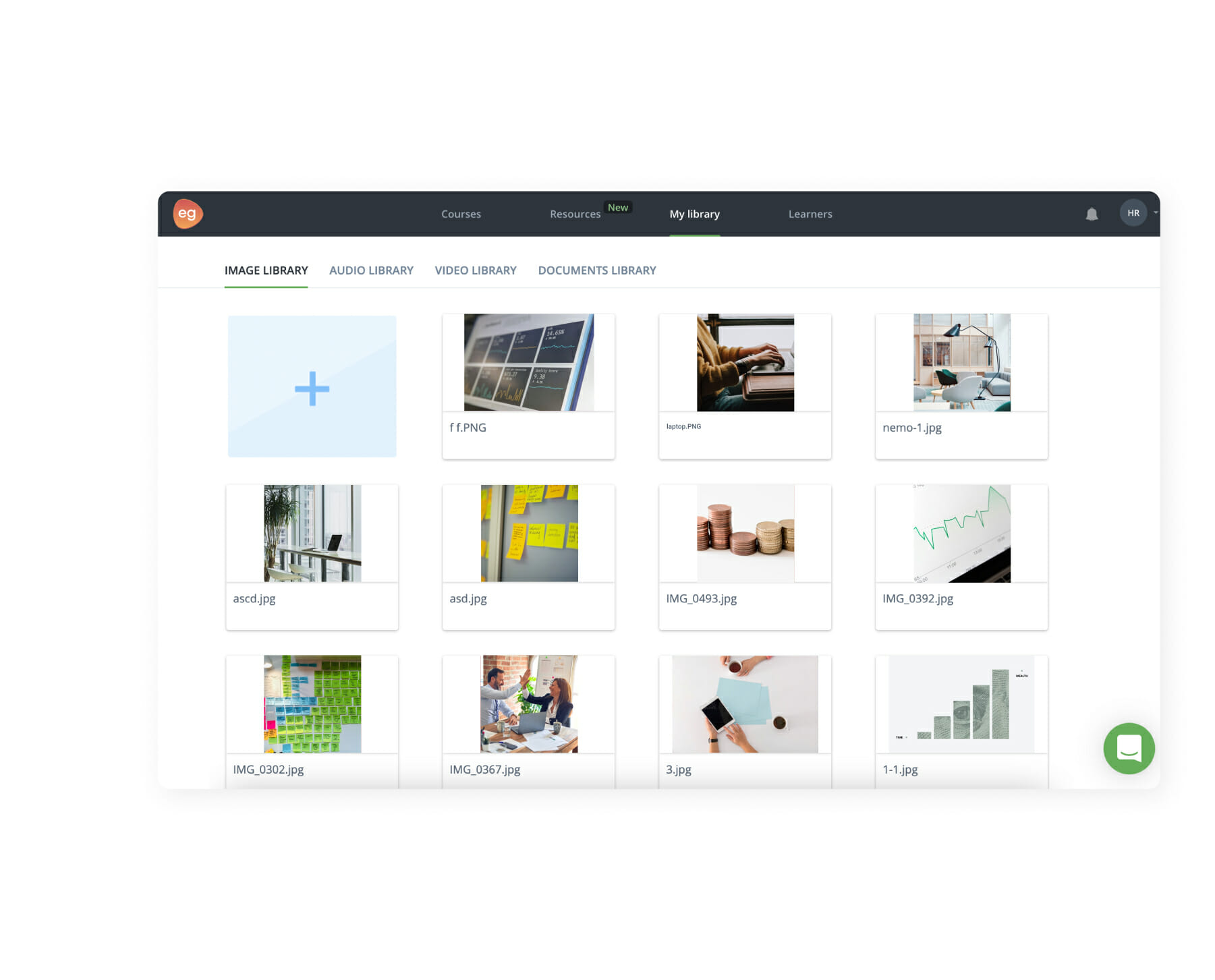 Reuse existing PowerPoint materials
Start building up your content library in Easygenerator. Images from your PowerPoint are imported into your account to be re-utilized for future projects.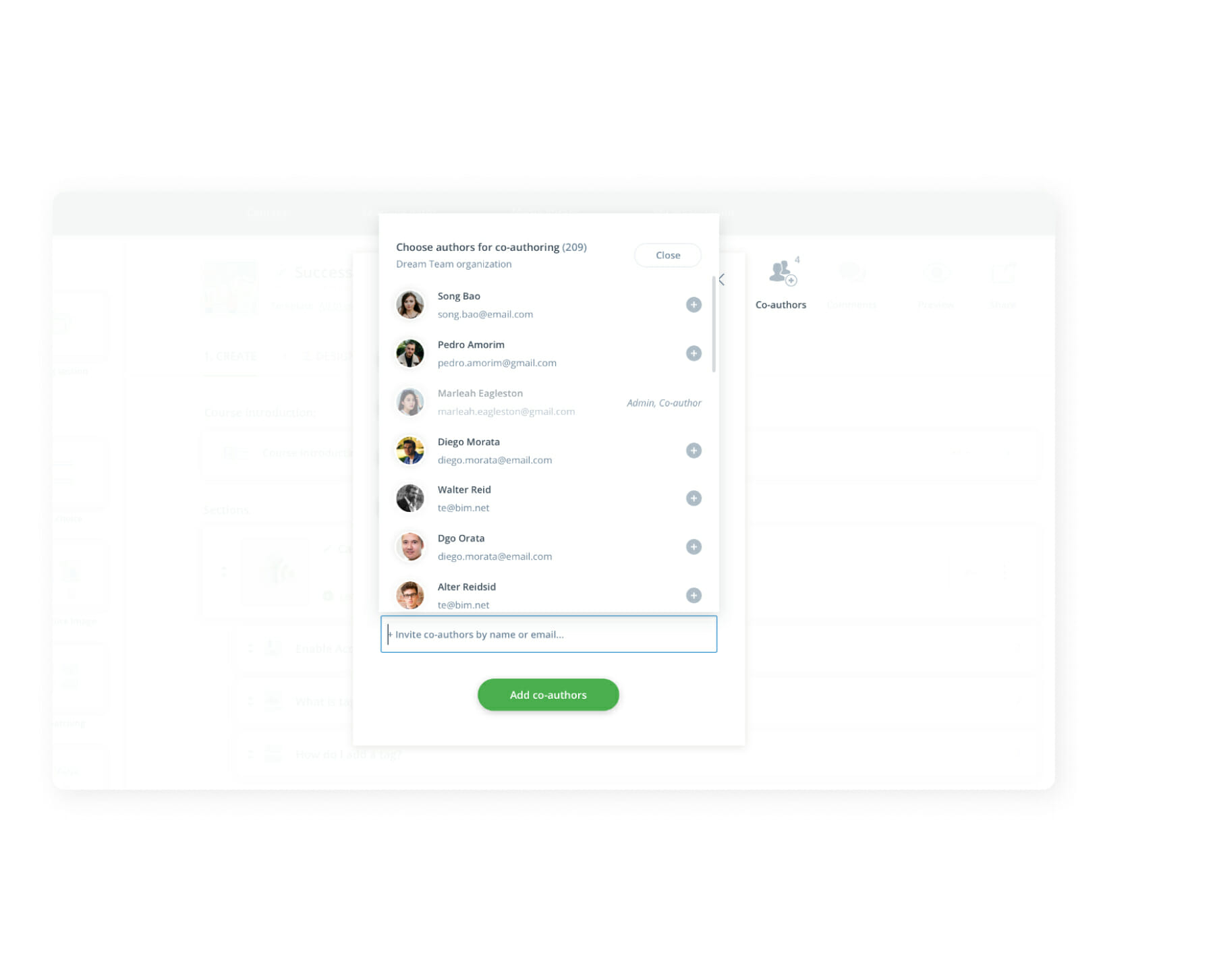 Collaborate and keep training up to date
Maintain and update content on the fly by working together, in real-time, with your team. Get in-app comments from co-authors and reviewers to ensure your training is on point.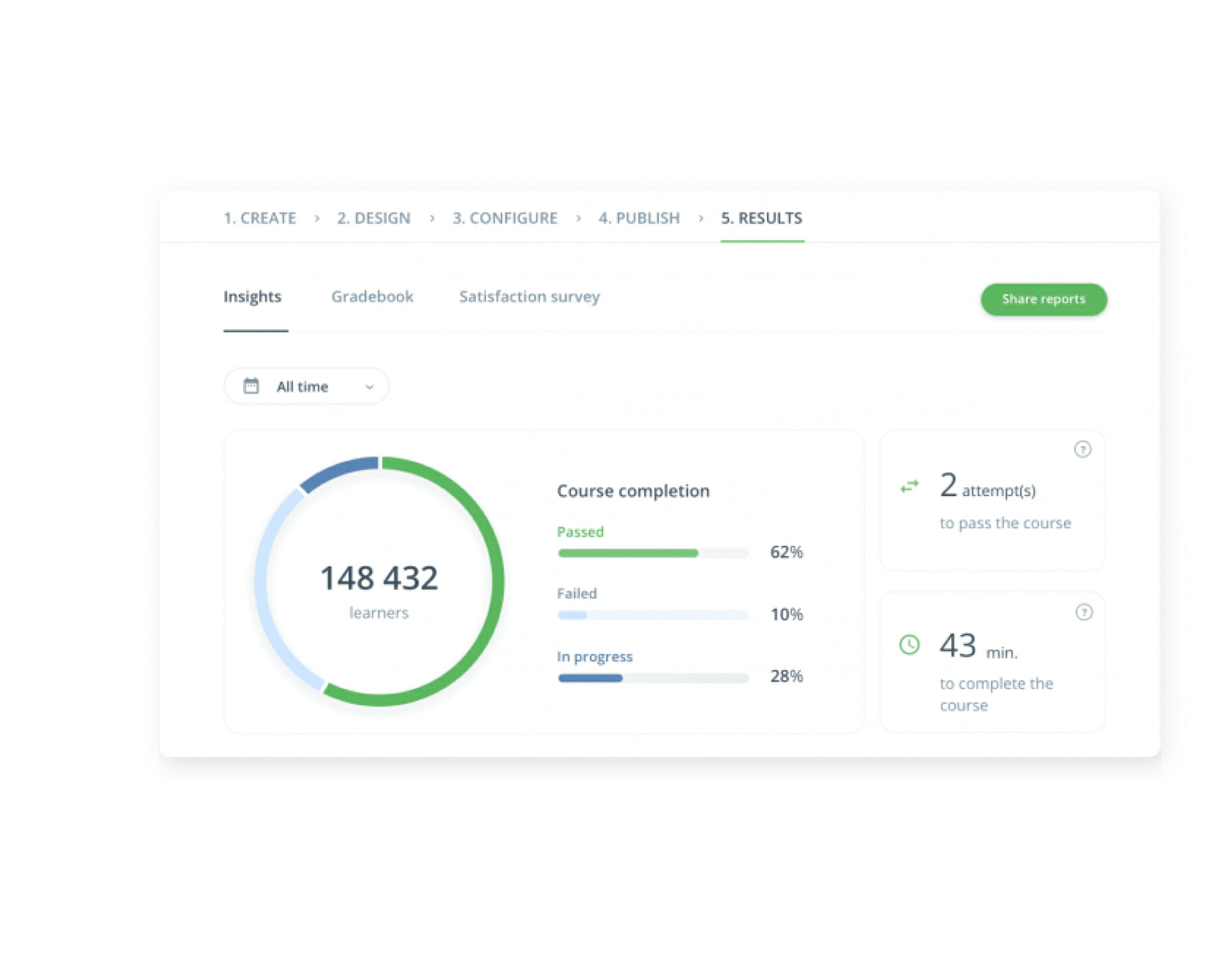 Keep track of learners' progress
Our tracking engine gives insights into learners' engagement and performance. Get analytics on learners' results so you can elevate and optimize learning experiences.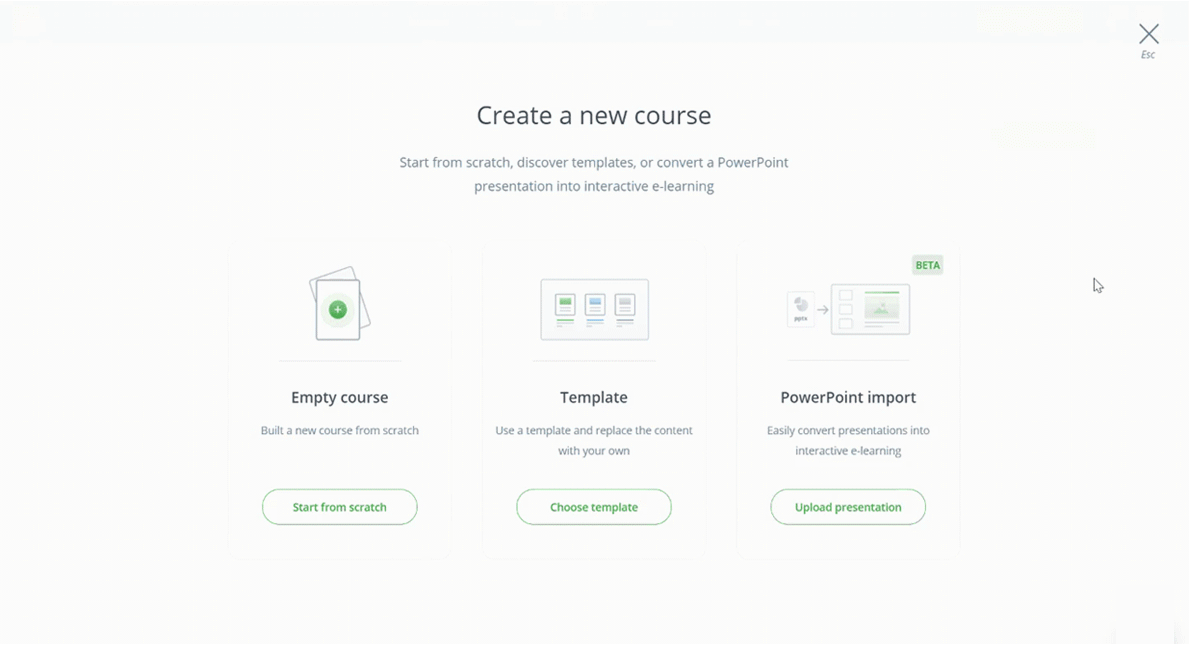 How to upload
Create a free account
It takes a few seconds to create an account with Easygenerator and unlock the variety of intuitive features. No credit card required.
Import your PowerPoint file in seconds
Simply create a new course by PowerPoint import and select the PowerPoint you want to use. It will be adapted into a format for easy customization.
Customize your new e-learning
Review your course and give it a finishing touch. Use our drag-and-drop editor to add interactive elements in a few clicks.
Frequently asked questions
Is the PowerPoint converter free to use?
Easygenerator's PowerPoint converter is included in all subscriptions. To learn more about the options available, you can check out our pricing page.  
How can I add interactivity to my course?
Our drag-and-drop editor makes it easy to transform your PowerPoint content into engaging e-learning. Choose one of 11 content modules or 10 question types to create interactive training. Check out how this is possible with all Easygenerator features.  
How can I share my new e-learning course?
Once you're satisfied with your new e-learning, Easygenerator offers several ways to share your course. Generate a private link to share with users, import it into your LMS with SCORM packages, and more! Learn more about our integrations here.  
Is Easygenerator a PowerPoint converter?
At its core, Easygenerator is an e-learning authoring tool designed to expedite the content creation process. Our PowerPoint converter is such a feature that is available to speed-up course building and provide interactive e-learning for your learners.  
Why should I create an e-learning course instead of a PowerPoint?
PowerPoint is a great tool to use in the classroom, but it does not work for continuous and remote learning. E-learning courses are easier to access and distribute, easier to maintain, and more effectively convey knowledge through interactivity. Our experts made a free guide to explain this further.  
Check out our help desk or feel free to contact us if you can't find the answer to your question.
Want to not only transform your PowerPoints, but your whole learning culture?
Try out our PowerPoint converter and start offering the best e-learning experiences. Prefer to get a first-hand look from one of our experts? We're happy to walk you through our awesome new feature.