Create SCORM packages from scratch
Easily produce SCORM packages with our e-learning authoring tool to upload into your LMS of choice.
Create courses from scratch
Easygenerator's drag'n'drop editor makes it seamless to create interactive SCORM packages.
Make your courses stand out by personalizing them with your company brand
Download SCORM packages in one click
Publish, download, or export SCORM 1.2 and 2004 courses directly to your LMS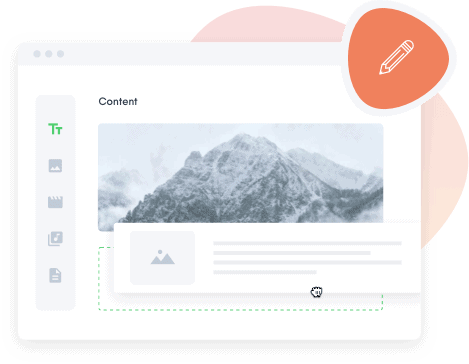 SCORM packages in one click
Anyone can use our intuitive drag and drop editor to create courses from scratch. When you're finished, export the course as a SCORM package to your LMS with the click of a button. It's as easy as that.
Ready-made templates
Let us help you along the first step of creation. Choose from one of over 50
pre-made templates
to kickstart the creation process. Download the template, customize it, and export it as a SCORM package.
Get the data that matters
Your SCORM packages can provide insights into your learners' results and engagement with your courses. Export this valuable data to your LMS to enhance your learners' experience.
Convert your PowerPoint to SCORM
Transform your PowerPoint files into interactive SCORM packages with Easygenerator's PowerPoint import feature. Upload your file, seamlessly incorporate interactive elements and download as a SCORM file.
Use the LMS you prefer
Content you create in our tool is compatible with SCORM and xAPI. Important data can also be passed to any LRS, LXP and LMS on the market. But that is just the beginning, learn more about the ways Easygenerator can enhance your existing learning ecosystem.
Frequently asked questions
How do I create SCORM packages with Easygenerator?
Once you have created a course, you can save it as a SCORM package with only a few clicks. All you have to do is go to 'Publish' and click 'Download as SCORM.' You download your file as SCORM 1.2 or SCORM 2004. 
Are my SCORM packages compatible with any LMS?
If the LMS supports SCORM 1.2 or 2004, you can combine it with Easygenerator. We are compatible with over 99% of LMS that support SCORM. Prefer an all-in-one-tool? Use Easygenerator as an authoring tool, LMS, and LRS, and track results inside the tool itself. 
What's inside Easygenerator?
The number one goal of our e-learning authoring tool is to make content creation a piece of cake. That's why Easygenerator has features that let you drag and drop content, get in-app feedback from co-workers, hand out certificates in the blink of an eye, and so much more. That's also why our Customer Support team is always happy to help you out via our in-app chat. Or phone or email, if that's what you prefer. 
Does Easygenerator offer ready-to-use templates?
Do you know what's even better than an easy-to-use authoring tool? Ready-to-use templates that you can download and send to coworkers. We have a page filled with these templates, about all sorts of topics: COVID-19, remote productivity, effective online meetings, and me. Want to tweak them a little before you hand them out to colleagues? Be our guest! You can remove and add content, videos, Questions, and even change images and colors.  
Check out our help desk or feel free to contact us if you can't find the answer to your question.
It's easy to get started
Sign-up for a trial and try out Easygenerator for yourself. Or let us help you get started. Book a free demo to get a tour through our tool and ensure your team gets the most out of Easygenerator.