RESELLER
Grow your revenue by partnering with Easygenerator
Become a certified reseller of Easygenerator and jump-start your business growth. Independently manage the sales process from start to finish and earn up to 100% commission.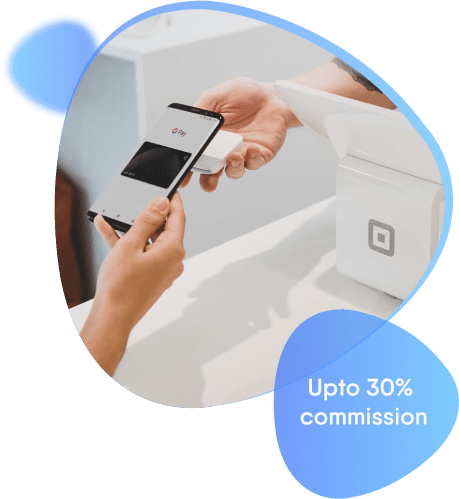 Benefits of working with EG
What's in it for you?
Profit from the start
You can earn up to 100% of the first-year contract value. As the most intuitive e-learning tool that empowers anyone to create e-learning content, you will close your first deal in no time.
PRM Access
We are on your side to help you close as many deals as possible. Gain access to Easygenerator's Partnership Relationship Management tool to oversee and track your opportunities and commission.
All resources
Whether it is through free Easygenerator licenses, personalized training, or co-marketing activities, we have your back to set you up for success.
Get started today, it's easy!
How does it work?
After filling in your information, a member of our partnership team will contact you to discuss next steps

Once a contract and agreement has been met, all you need to do is sign and you will be an official Easygenerator partner

We'll set you up for success with a personalized onboarding session of Easygenerator and resources to share with your clients

Start reselling Easygenerator licenses and you will start earning commission after you close your first deal
About the Partnership Relationship Manager
To set you up for success, all resellers get access to Easygenerator's Partnership Relationship Management tool. You can use this tool to track opportunities, access marketing materials, submit leads, and get paid when your deals close.
Customers' Reviews
G2 is the world's largest tech marketplace where businesses can discover, review, and manage the technology they need to reach their potential.
See all reviews on G2.com
Frequently asked questions
You can invoice us for the agreed amount as soon as you close an Easygenerator opportunity.
Do I get any training resources from Easygenerator?
Yes! You will receive both sales and product training so you can be set up for success in reselling Easygenerator.  
What happens if I have specific questions about Easygenerator regarding an opportunity?
As a reseller, you will get a dedicated partnership success manager who can help to guide you along the way. 
How can I best promote Easygenerator?
We will provide all the tools and resources you need, whether it's training sessions or marketing resources, to ensure you can promote Easygenerator as effectively as possible. 
It's easy to get started
Sign up to become a Reseller and our team will be in touch shortly